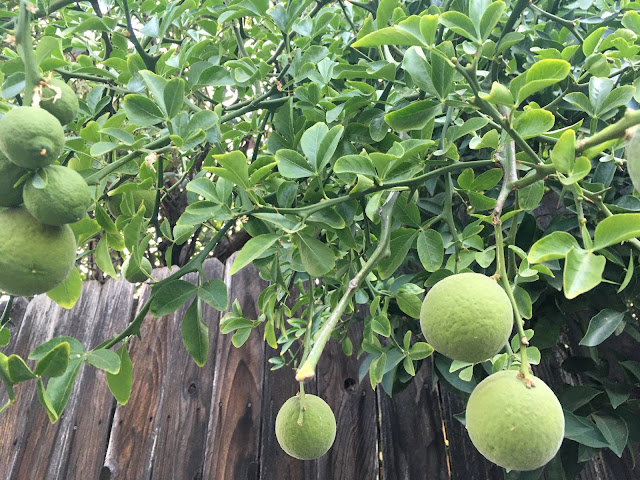 Notice the three-part leaves on this citrus tree. They are a clue to its identity. (Photo courtesy Allen Pierleoni)

Citrus rootstock sprouts a trifoliate orange tree
"What's growing over my fence?"
That's a common question from many gardeners, one that I ask myself sometimes, too.
In the case of fruit, it comes with a corollary: "Can I eat it?"
Such is the case of this mystery fruit, spotted by a loyal reader in Fair Oaks. He pondered whether he was going to get some bonus citrus – or should cut the branches back.
"The skin is slightly velvety, the plant is growing next to a grapefruit tree. Unusual leaves, no?" he wrote in a note with his photo of what looked like fuzzy navels.
All three observations were clues to the mystery fruit's identity – plus one more. Look out for those great big thorns.
The fruit is a trifoliate orange (
Citrus trifoliata
), also known as Japanese bitter orange or Chinese bitter orange. And it sprouted from the rootstock of the grapefruit tree.
Allowed to grow and thrive, the trifoliate orange is forming its own tree – and could crowd out the grapefruit grafted on its roots.
Trifoliate orange – named for those three-part leaves – is among the most cold-hardy citrus. So, it's often used as rootstock to give tender grapefruit and other citrus a little more cold tolerance (especially in Northern California).
The fruit is covered with soft down. Usually packed with seeds, it eventually ripens to yellow and looks like a small orange but with skin that feels like a peach.
As for taste, it lives up to its bitter nickname.
My advice: Get out the pruning shears.