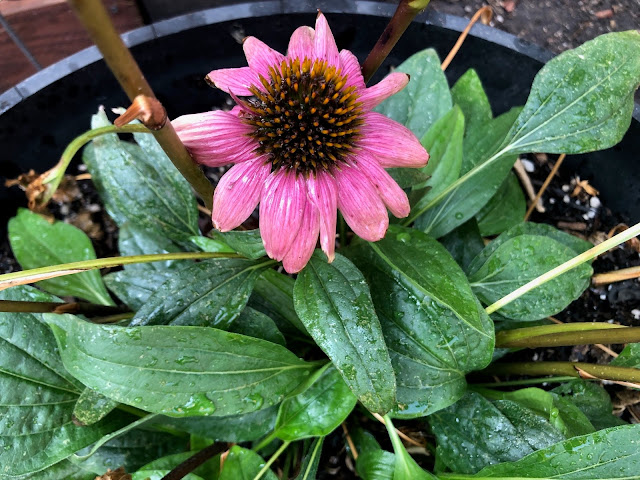 Plants will appreciate a morning shower during this heat wave. Coneflowers especially will -- they have rough leaves that easily collect dust and, lately, ash from wildfires. (Photo: Kathy Morrison)
The heat is back on this Labor Day weekend with the possibility of more records. Sacramento could see its hottest September day ever; 110 is forecast for Sunday. That's 20 degrees above normal for early September. The previous record for the month: 109.

For the Sacramento region, the National Weather Service issued an excessive heat warning through Tuesday night. Then, the Delta breeze is expected to start back up, giving us some relief.

In the meantime, drink extra water and avoid outdoor activities from 10 a.m. to 6 p.m., advises the weather service. Help kids and elderly family or friends stay cool. And pets, too.

That also goes for your garden. Irrigate early. Give plants in containers extra water. Shade maturing tomatoes, peppers, eggplant and squash.

What else should you be doing in your garden this week?

* In these smoky conditions, foliage could use some water, too. Give your plants a morning shower. Rinse off dust, ash and grime.
* Keep harvesting tomatoes, peppers, squash, melons and eggplant. In this high heat, pick before your crops get overripe.
* Compost annuals and vegetable crops that have finished blooming and producing.
* Divide and replant bulbs, rhizomes and perennials.
* Dig up and divide daylilies as they complete their bloom cycle.
* Divide and transplant peonies that have become overcrowded. Replant with "eyes" about an inch below the soil surface.
* Plant onions, lettuce, peas, radishes, turnips, beets, carrots, bok choy, spinach and potatoes directly into the vegetable beds. Make sure to keep them hydrated.
* After the heat wave ends, transplant cabbage, broccoli, kale, Brussels sprouts and cauliflower as well as lettuce seedlings.