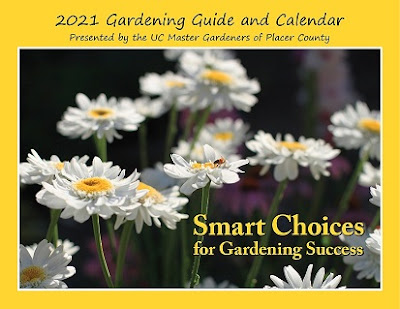 The 2021 gardening guide and calendar from
the Placer County master gardeners is just $10.
Can't wait for 2020 to be gone? Get a jump on next year with a new 2021 calendar!
Now available is a wonderful calendar packed with information for Sacramento-area gardeners, particularly those that live in foothill communities: The 2021 Gardening Guide and Calendar presented by the UC Master Gardeners of Placer County.
With the theme "Smart Choices for Gardening Success," this is the 29th edition of the Placer master gardeners' award-winning calendar and garden guide.
"There has been a surge this year in people interested in growing their own food and this calendar taps into that enthusiasm and can help Northern Californians, from beginners to experts, create, grow and harvest a healthy sustainable garden," said Paula Agostini, calendar committee co-chairman for the Placer County master gardeners.
Featuring planting, growing and harvesting tips, the 13-month calendar and guide features in-depth articles for every season. Among the topics: Soil testing, planting bare-root berries and trees, how to choose the right tools for the job, seed saving, planting for small spaces and how to help bees.
Find out what to plant when (and where) as well as what's in season at local farmers markets.
"Additional charts, tables and resources, accompanied by beautiful local photos, provide a wealth of information that any level of gardener will appreciate," Agostini said.
Priced at $10, the calendar also makes a great gift for gardening friends and family.
The calendars are available at several nurseries and gardener-friendly locations in Placer, Nevada and El Dorado counties as well as online directly from the master gardeners at:
http://pcmg.ucanr.org/2021_Calendar/
— Debbie Arrington