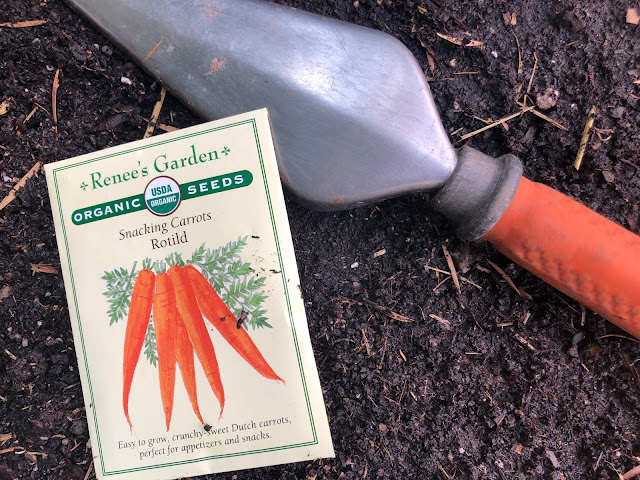 Now's the perfect time for planting seeds for carrots, onions, lettuce, peas, radishes, turnips, beets, bok choy and spinach, plus seed potatoes. (Photo: Kathy Morrison)
Enjoy these final days of summer – and first days of fall.
After one of the hottest summers on record, a new season starts Tuesday with temperatures in the mid to high 80s for most of the week. Perhaps our weather is returning to something that resembles "normal." Average for late September in Sacramento: 87 degrees.
Meanwhile, overnight lows are staying right around 60 degrees, warm enough to encourage healthy root growth.
Smoky skies are clearing, too. After 30 consecutive days of poor air quality, blue skies are finally visible again.
So, it's time to get outside and give your garden some TLC.
* Cultivate and add compost to the soil to replenish its nutrients for fall and winter vegetables and flowers.
* Fertilize deciduous fruit trees.
* Plant onions, lettuce, peas, radishes, turnips, beets, carrots, bok choy, spinach and potatoes directly into the vegetable beds.
* Transplant cabbage, broccoli, kale, Brussels sprouts and cauliflower as well as lettuce seedlings.
* Sow seeds of California poppies, clarkia and African daisies.
* Transplant cool-weather annuals such as pansies, violas, fairy primroses, calendulas, stocks and snapdragons.
* Divide and replant bulbs, rhizomes and perennials.
* Dig up and divide daylilies.
* Divide and transplant peonies that have become overcrowded. Replant with "eyes" about an inch below the soil surface.
* Late September is ideal for sowing a new lawn or re-seeding bare spots.