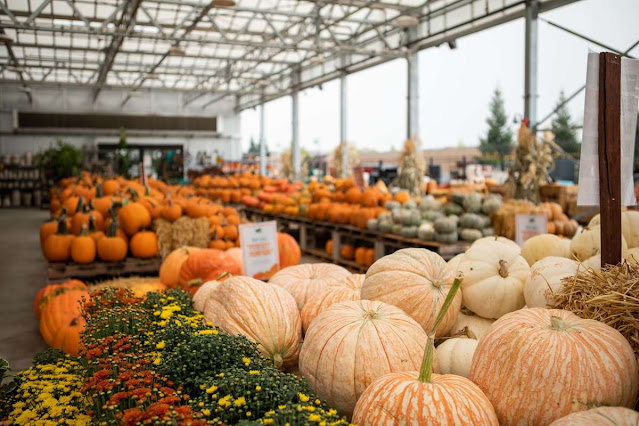 Pumpkins have arrived at Green Acres stores and are ready for carving or arranging. (Photo courtesy Green Acres Nursery & Supply)
Happy autumn equinox!
Celebrate (virtually) all things autumn during Green Acres' annual Fall Festival. Now through Sunday (Sept. 27), Green Acres Nursery & Supply will host daily events via its
Facebook
,
Instagram
and
YouTube
pages. There's a different theme and video every day.
Green Acres staff will post new events each day. Don't worry if you missed the presentations; the videos will stay up on Green Acres' webpages and channels.
Tuesday is "Get the Dirt on Fall Veggies," with a short online tutorial on what to plant now plus other autumn gardening tips.
Wednesday, learn how to create container gardens full of color during "Pot-Up Palooza." An online class shows how to combine fall annuals and spring bulbs in one pot that delivers flowers over three seasons including a spring explosion of bright blooms. In addition, some of Green Acres' favorite garden influencers show how they use pumpkins, mums, ornamental kale and more to decorate their porches.
Thursday, go crazy for crotons and other indoor favorites as Green Acres staff explores "Houseplants for Fall Decor."
Friday, find out why "Fall is for Planting," along with many suggestions of what to plant now.
Saturday, it's "Fall Fun with the Family," featuring online classes for both adults and kids. Youngsters can learn how to turn a pumpkin into a giant orange ice cream cone (a definite conversation piece during fall celebrations). For grown-ups, the class shows how to pack a pumpkin with succulents and turn it into a fall centerpiece. Plus discover some pumpkin-packed recipes.
Sunday wraps up with awards. During its Fall Festival, Green Acres is hosting a week-long pumpkin decorating contest with $100 gift cards to the winners. In addition, patrons can vote for the decorated in-store pumpkin of their choice with $2,000 going to a local charity of the store's choice.
For details and links:
https://idiggreenacres.com/pages/fall-fest