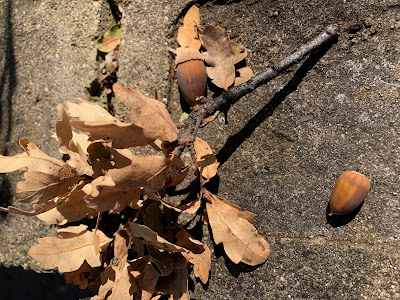 The Sacramento Tree Foundation is teaching how
to harvest acorns, such as these from a native blue
oak ( Quercus douglasii ). (Photo: Kathy Morrison)
Love oaks? Learn how to become an acorn harvester and help the Sacramento Tree Foundation's efforts to nurture these beloved California native trees.
This week, the foundation will offer two online seminars devoted to acorns and oaks. The first session, at 6 p.m. Wednesday, Sept. 23, is already full, but the second session – at 10 a.m. Saturday, Sept. 26 – still has openings.
"This session will be live from the forest on Zoom," says the foundation. "We will look at identifying native oak trees, how to scout for acorn harvesting locations, talk about acorn ripeness, safety, and how to sort and prepare acorns."
Sacramento Tree Foundation annually gathers 7,000 to 10,000 acorns from native oaks in the Sacramento region. Those acorns will be used to grow trees for Sacramento's urban forest as well as other forestation projects.
Official SacTree acorn harvesters must complete both sessions, but folks interested in oaks and acorns can learn a lot, too.
For more information on oaks, trees and the acorn harvester training, go to:
www.sactree.com
.
- Debbie Arrington