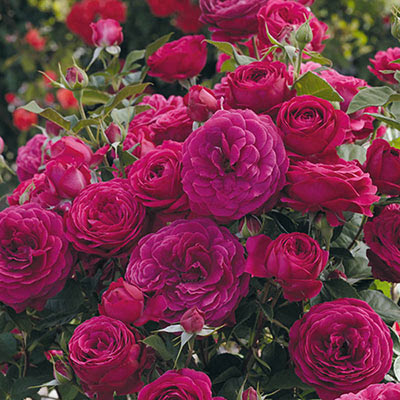 Celestial Night, a floribunda, is one of the Weeks
Roses to be sold Oct. 3 in 5-gallon pots.
(Photos courtesy Weeks Roses)
Add a rosy addition to your garden. Three local rose societies – Sacramento, Sierra Foothills and Gold Country – will host a driveway sale Saturday, Oct. 3, featuring more than 450 bushes.
In addition to new introductions from Weeks Roses, the selection includes scores of rarities from the gardens of such top local rose growers as Baldo Villegas and Melody and Duane Carlson.
Originally intended to be sold at the 2020 Sacramento Rose Show, many of these bushes have really filled out into gorgeous plants and several are now coming back into bloom. After the April rose show was canceled due to pandemic restrictions, Dave and Ruth Coop lovingly cared for the bushes at their Roseville home.
Fortunately, the Coops have a very long driveway, so there will be lots of room for social distancing during Saturday's event.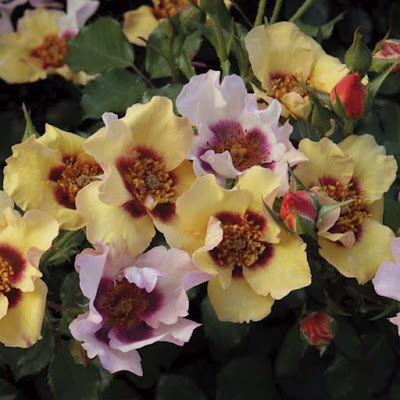 The unusual In Your Eyes is another of the Weeks
Roses to be sold. It is a shrub rose with blooms that
change color as they age.
Among the Weeks Roses to be offered in 5-gallon pots: Celestial Night, In Your Eyes, Love at First Sight, Queen of Elegance, State of Grace and Children's Hope. These bushes will be priced at $20 each or two for $30 (a great bargain).
The others – offered in 1-gallon pots and grown on their own roots -- were propagated by Villegas, the Carlsons, Cindy Phipps, Kay Jelten and other volunteers. These bushes will be priced at $15 apiece, another fantastic deal. Sale list is available upon request.
October is among the best times of the year to transplant new additions to your garden including roses. Many of these young bushes are just coming into bloom, offering a glimpse of the beauty to come.
Proceeds will benefit the Sacramento, Sierra Foothills and Gold Country rose societies.
This is a public sale; share with your gardening friends. A new rose (or two) will bring smiles to their faces.
This will be a safe and socially distanced sale. Customers are asked to please wear face masks and stay 6 feet apart. Two blocks of time will be by appointment only, further limiting contact and allowing for more space between customers.
The Coops' address is 8336 Bianchi Road, Roseville. To make an appointment, email Dave at
d.coop@sbcglobal.net
or call or text to 916-276-0170. Cash or checks accepted.
Here's the sale day schedule:
– 8 to 9 a.m.: By appointment only. Time slots are 10 minutes apart.
– 9 a.m. to 2 p.m.: Open to public.
– 2 to 5 p.m.: By appointment only. Time slots are 10 minutes apart.
Remember: Wear a face mask!