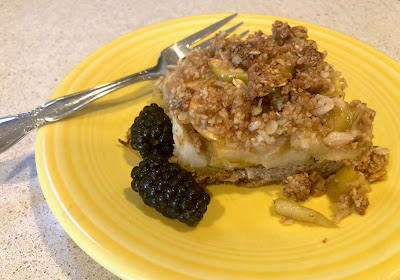 Apple crumble bars are delicious with breakfast

coffee, but also would make a nice dessert.

(Photos: Kathy Morrison)






Baking season, like fall planting season, is among my favorites. There are so many wonderful ingredients in fall -- pears, pumpkins, persimmons -- but apple is the king.
I find, however, that too many apple recipes are so loaded with butter and sugar that you can barely taste the apples. So I've been reading through dozens of recipes to adapt to a healthy apple treat. The one  here is pretty close. It's vegan and can be made gluten-free by using almond flour instead of whole wheat. If you already have oat flour -- which is just ground-up rolled oats -- by all means use that instead of making the 1-3/4 cups ground oats in the blender.
These apple crumble bars have just enough sweetness to be part of breakfast, but they would be delicious for dessert under a scoop of ice cream or a puff of whipped cream.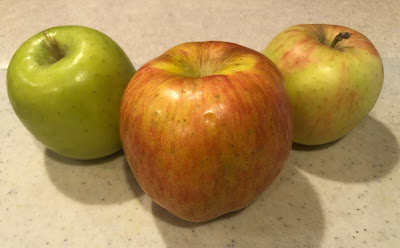 From left to right, a Mutsu apple, Smitten apple and a Jonagold.
Combining varieties delivers a nice balance of flavors.
I used a combination of apples for a balance of tart and sweet: a Mutsu and a Jonagold from the farmers market and a new-to-me branded apple, Smitten, that I found at the supermarket. (Smitten, which resembles a Gala, was developed in New Zealand but is now grown in Washington state.) They are all fairly firm, and don't turn to mush when baked. But use your favorite varieties; this recipe will work with any combination. Leave them unpeeled unless you're using a Granny Smith -- that skin is just too tough.
Apple crumble bars
Serves 9-12
Ingredients:
For crust and topping:
2-1/4 cups old-fashioned rolled oats, divided
1/4 cup whole-wheat flour or almond flour
1 teaspoon baking powder
1/2 teaspoon cinnamon
1 teaspoon salt
1/4 cup apple butter or applesauce
1/4 cup coconut oil (melt if it's solid)
1/4 cup real maple syrup
3 tablespoons almond butter
1 teaspoon vanilla extract
For the filling:
3 medium unpeeled apples, preferably a mix of varieties, cored and sliced thin (1/16th inch)
2 tablespoons lemon juice
1 tablespoon cornstarch or arrowroot powder
2 tablespoons apple butter or real maple syrup
1 teaspoon cinnamon
For glaze (optional):
1 tablespoon coconut oil (liquid)
1 tablespoon real maple syrup
1/4 to 1/2 teaspoon cinnamon (to taste)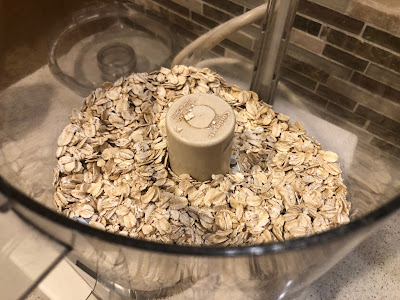 Quickly turn rolled oats into oat flour in a food processor
or blender.
Instructions:
Line an 8-by-8-inch baking pan with parchment paper. Preheat oven to 350 degrees.
Measure out 1-3/4 cups of the rolled oats and put them in a food processor or blender. Whir until the oats have a consistent flour texture, but not too fine.
In a large bowl, whisk together the ground oats, the remaining 1/2 cup rolled oats, the whole wheat or almond flour, the baking powder, cinnamon and salt. In smaller bowl or glass measuring cup, stir together the apple butter or applesauce with the coconut oil, maple syrup, almond butter and vanilla until blended. Using your hands or a spatula, combine the wet mixture with the dry ingredients until the dough starts to stick together.
Remove about 2/3 cup of the crumble dough and set aside. Dump the rest of the dough into the prepared pan and flatten it out, pressing very firmly, especially in the corners. Use the moistened bottom of a glass or a wet spatula if you have to.
Place the apple slices in the same large bowl used for the crumble. Cut the longer slices in half if desired. Sprinkle on the lemon juice, then the cornstarch or arrowroot powder. Blend in the apple butter or maple syrup and the cinnamon.
Arrange the apple slices over the crust in the pan as evenly as possible. Crumble the reserved dough evenly over the apples, breaking it up into small pieces as you go.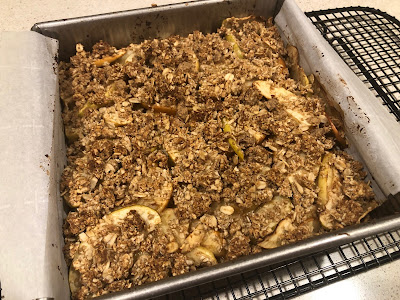 Let the bars cool before adding glaze or cutting them.

Bake the crumble bars for 45 minutes, or until the topping is golden brown and the apples are tender. (Check with the tip of a knife.)
Remove from oven and cool completely. The glaze is optional but adds a nice bit of shine to the top: Stir together the liquid coconut oil and the maple syrup until completely combined, then add the cinnamon to taste. Drizzle over the cooled crumble. Cut and serve as desired: plain, with berries, ice cream or whipped cream.