Vermicomposting creates garden gold in a small space
Did you know I have worms?
They're cute little red wigglers, and they're working hard in their bin, munching on kitchen scraps and making the world's best soil amendment.
Although I've had a regular compost bin going for about 20 years, I never thought about setting up a worm bin. But I had a class last winter with Sacramento County's most enthusiastic worm wrangler, UCCE master gardener Patty Peterson.
She taught us how to put together a worm bin, an easy process that I'll link to at the end. As luck would have it,  I won the bin that my group was putting together. I lugged it home and thought, "Oh great, now I have to keep these worms alive, or risk embarrassing myself with my class."
The bin took a spot outside, in the shade on the north side of my house, with a towel over it to keep it warm in the winter weather. I kept up the food supply, and made sure the bedding stayed moist (but not too moist). The bin started with only 24 tiny worms, and early on whole weeks would go by when I wouldn't see any, or maybe one that had attached itself to the plastic covering.
These worms actually helped keep me sane during the early weeks of the pandemic shutdown. Apple cores and squash peelings were easy food, and I had something else to focus on away from the news.
The worms' bedding began to break down after a few months, so I went to Western Feed & Pet Supply and bought a bale of Eco Flake animal bedding, which is mostly pine shavings. It'll last me a couple of years, I think, but it was worth it.
Gradually the worm population grew, and by the late spring it was thriving. I had no problem spotting at least a few of the residents.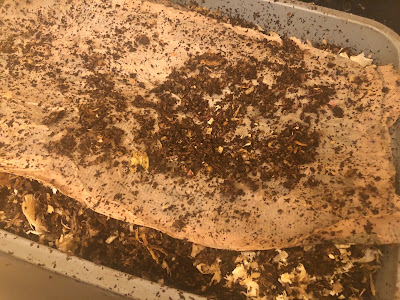 Here's the worm bin with the top removed, with the newspaper
sheet on the bedding and the photographed worms (above) on top.
The bin is in a bathtub now but will go back outside soon.
But then the temperatures started spiking. When I stuck my hand in the bedding to check the moisture, it was uncomfortably warm. Worms do best at 55 to 75 degrees, and it was much hotter.  I didn't want the worms to cook, so I started moving the bin around, trying to find a cool spot. My eventual solution: The front bathroom in my house, in the rarely used bathtub. They're still there, but with the drop in temps this week, they soon will return to their outdoor spot.
When that happens, I intend to harvest most of the castings, and start the process again. And my garden gets the homemade treat.
Worm composting really is the space-efficient way to compost, whether you have a big garden or just a few containers to use the castings in.
And you don't have to take a class with Patty to learn about vermicomposting. She recorded two short videos for Harvest Day over the summer: "Making a Worm Bin" and "Harvesting Worm Castings." The master gardeners also have a great written guide to worm composting, GN 144 .
But I will note a couple of important things here:
-- Use red wigglers ( Eisenia fetida ), the worms sold at bait shops. (They're also available from suppliers online.)  These are worms that live in leaf litter. Earthworms that you might see when you dig a hole are different -- they live underground and will quickly escape the bin.
-- The bin shouldn't be deeper than 1 foot, which is why a 10-gallon lidded storage tote is perfect. The master gardeners at the Fair Oaks Horticulture Center have a longer bin built of wood. It's behind Patty in the first video, if you want to see how one looks. The bin should be solid, not clear, and should have holes drilled on all sides and the bottom, for drainage and aeration. It also needs to be set up on bricks or pieces of wood, to allow air underneath. Indoors, it needs a drainage tray (or bathtub!).
-- The worms will devour just about any kitchen plant waste except onions, citrus peels and cranberries. They especially love melon rinds, I've found. I tend to chop up things like banana peels, but that's not crucial. Patty touts worms as perfect pets that don't need sitters: Going on a two-week vacation? Give 'em a pumpkin!
And now I know what to do with that jack o'lantern come Nov. 1.