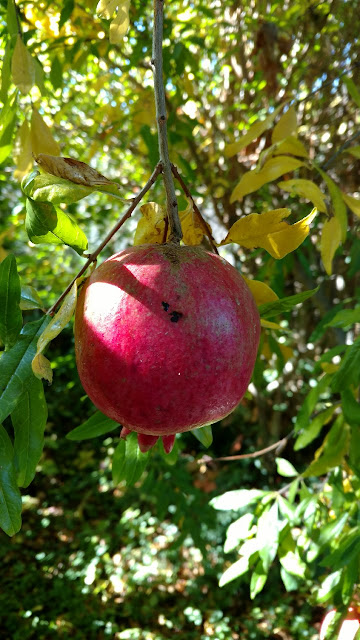 Pomegranates are ripening earlier than normal this
year. (Photo: Debbie Arrington)
Pomegranates are ripening early this year. Instead of waiting until mid-November, they look like they'll be ready by mid-October.
Likely, late-summer heat pushed them into speed-up mode. But if you have pomegranates on the tree, keep an eye for signs that they're ready for harvest.
Most commercial growers pick pomegranates when they're under-ripe to avoid splitting or other damage. When the round fruit turns blocky, the arils (the seed sacs) are at their juiciest and sweetest. That's the best time to pick – when the fruit is at its peak.
But waiting for that blocky shape may be too late this season – if rain is in the forecast. An October storm can cause the tree to soak up too much moisture – and force the fruit to split its skin.
So, watch the forecast while also watching the tree.
Off the tree, pomegranates will keep several weeks. In the refrigerator crisper, they'll last three months or more. They'll actually produce more juice after they've sat a couple of weeks. By that time, the leathery skin can start to harden. If so, soak the whole fruit for 5 to 10 minutes in lukewarm water before deseeding.

That soaking also will remove any grit or soot the fruit may have collected during its long hang time on the tree. Fortunately, that leathery skin also protects the arils from smoke and ash.
Did your pomegranate have an off year with little or no fruit? The next question: When did you prune?
Hard pruning of a pomegranate tree can lead to a season with no fruit. Pomegranates bear fruit on second-year wood, sprouts the tree produced the previous year. If you remove all the new growth each winter, the tree will have few if any fruit.
Instead, prune lightly in January after the shrub has dropped its foliage, concentrating on opening the center of the plant for good air circulation.