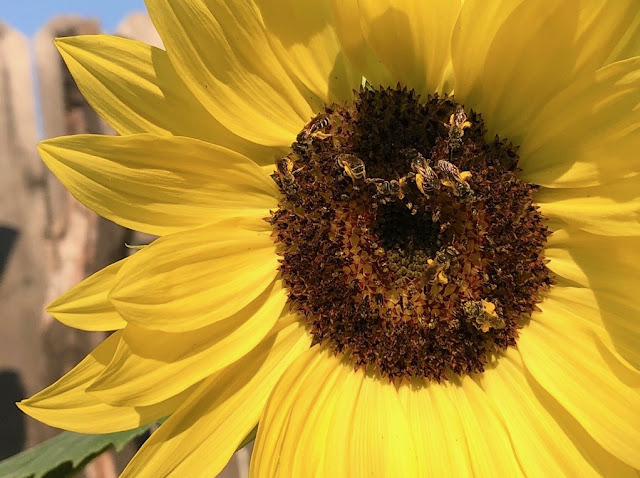 Bees flock to a pollen party on this Lemon Queen sunflower. (Can you spot all nine bees?) Learn how to help bees in your garden through Zoom classes offered by the Häagen-Dazs Honey Bee Haven. (Photos: Kathy Morrison)
Bees need flowers – and friends. Learn how you can help bees in your garden with a series of fun and informative online classes devoted to these important pollinators.
Due to the pandemic, the Häagen-Dazs Honey Bee Haven at UC Davis will host its fall classes via Zoom. Offered free to the public, each class will include a 20-minute presentation followed by questions and answers, according to Christine Casey, who oversees the Bee Haven. The classes will be presented at 6 p.m. on the first three Mondays of November. Sign up in advance to make sure you have a spot.
Here are Casey's course descriptions:
Creating a Bee Garden (6 p.m. Nov. 2)
We'll cover the basics of building a garden that has the components needed to provide good habitat for bees and other pollinators. Bees need more than flowers, and not all flowers meet bees' needs equally. If you're interested in starting or expanding your bee garden, join us to learn more.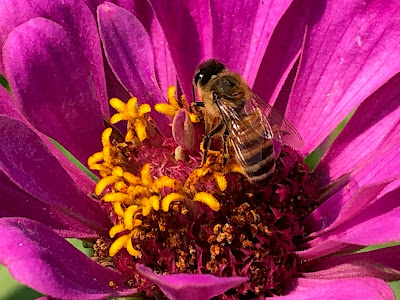 Bees love zinnias, but they need more than flowers to flourish.

Common Bees in Gardens (6 p.m. Nov. 9)
Those big black "bumble bees" you see so often? They're not bumble bees at all! Learn how to identify common bees in California gardens and how to distinguish bees from other insects.
Bees in the Home Food Garden (6 p.m. Nov. 16)
Good yield from your home food garden starts with successful pollination. Learn about the common bees that pollinate food crops and how you can support them in your garden.
Registration links for each session:
http://beegarden.ucdavis.edu
Meanwhile, check out the Bee Haven for yourself. The Häagen-Dazs Honey Bee Haven is open during the pandemic, Casey said.
Visitors are welcome to see the bees at work in the half-acre garden, devoted to bee pollinator conservation and education. It's located at 1 Bee Biology Road on the UC Davis campus.
Admission and parking are free. The Bee Haven is open daily from dawn to dusk with a later opening time on Tuesdays (10 a.m.) and Wednesdays (11 a.m.) to accommodate social distancing during garden maintenance.
For directions and more:
http://beegarden.ucdavis.edu
.
- Debbie Arrington