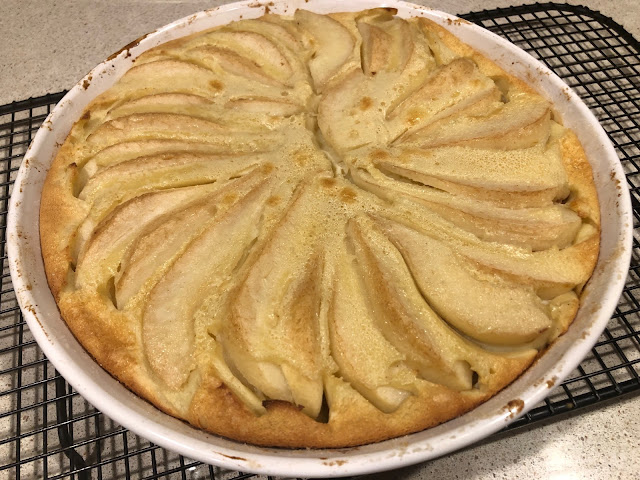 Just out of the oven, this pear clafoutis smells amazing. (Photos: Kathy Morrison)
Pears come into season about the same time as apples, but seem to get lost in the early fall rush. It may be because, as some kitchen wag noted years ago, a pear is perfect for only 5 minutes. Beforehand, it's too hard, and afterwards it's mush.
A shame, really, because pears have texture and flavor that complements so many things. They go equally well with a glass of red wine, a hunk of cheese or a pile of spinach salad. They are delicious grilled, too.
While apples have cinnamon all tied up as the perfect spice accompaniment, pears have cardamom, a woefully underused spice that smells incredible in baked goods. Pears also match well with almond, so I brought all these flavors together in a quick-to-mix autumn clafoutis.
Clafoutis, if you're not familiar with it, is a French dessert that falls somewhere between custard and Dutch baby pancake, with fruit but without the latter's extreme puffiness. No crust to fuss with here, either. The batter can be made in a blender, and before you know it you have a baked treat that can serve as dessert or brunch dish.
Choose firm-ripe pears for this clafoutis. I prefer Boscs, which are more likely to stay ripe longer before turning to mush, but Bartletts are good as well. I use a 10-inch shallow ceramic tart dish for clafoutis, but a pie pan or gratin dish also will work if it's large enough. You don't want the clafoutis to be too thick; the batter should barely cover the fruit.
Autumn pear clafoutis
Serves 6 to 8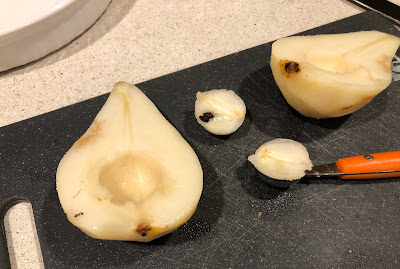 A melon baller is perfect for removing pear cores.


Ingredients:
Butter, for greasing pan
1 tablespoon granulated sugar, for dusting pan
Two large, firm-ripe pears, about 1-1/4 pounds total
1 tablespoon Amaretto or other almond liqueur, optional
Batter:
3/4 cup milk, room temperature
1/4 cup heavy cream, room temperature
3 large eggs, room temperature
1 teaspoon vanilla extract
1/4 teaspoon almond extract
1/2 cup unbleached all-purpose flour
1/3 cup granulated sugar
1/2 teaspoon ground cardamom
1/4 teaspoon salt
Powdered sugar, for serving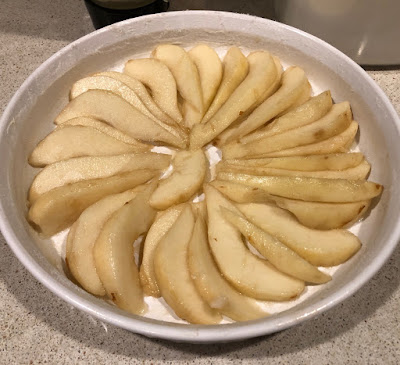 Arrange the pear slices evenly in the pan.

Instructions:
Heat oven to 350 degrees. Generously butter the bottom and sides of a 10-inch tart pan or other shallow baking dish, and sprinkle the 1 tablespoon of sugar over it.
Peel and core the pears and cut into 1/4-inch slices. Arrange the slices in a pleasing design on top of the sugared butter. If desired, sprinkle the pear slices with the Amaretto, and set the dish aside while you make the batter.
In the container of blender or in a large bowl (if using a mixer or immersion blender), blend together just until combined the milk, cream and eggs and vanilla and almond extracts. In a small bowl, stir together the flour, sugar, cardamom and salt. Add the flour mixture to the liquid mixture, and blend on medium-high speed for 1 minute.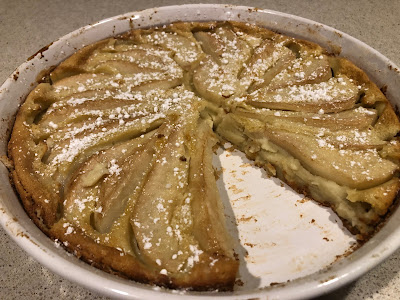 A sprinkle of powdered sugar is all the dressing-up this needs,
but you can accompany the clafoutis with whipped cream or
some fresh berries.
Pour the batter over the pears in the dish carefully, to avoid disturbing the fruit pattern, and bake 40 to 45 minutes, or until the clafoutis is turning light golden brown and the tip of a knife stuck in the middle comes out clean.
Cool clafoutis for about 10 minutes before serving, or allow to cool to room temperature. It's even good cold, but just barely warm seems to be the ideal serving temperature. Sprinkle clafoutis with powdered sugar before cutting and serving.