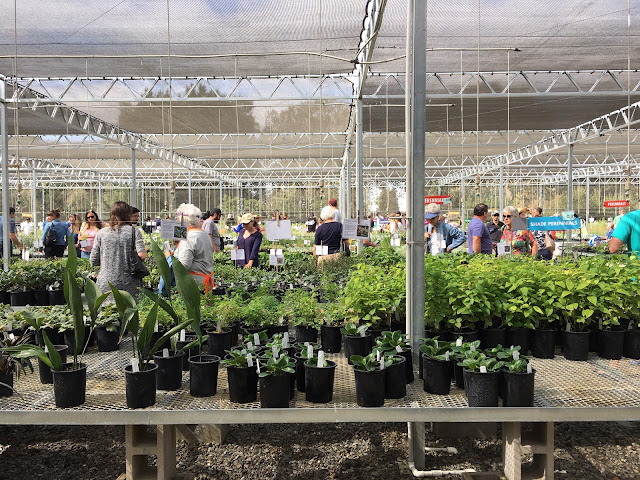 This is the typical scene during a past fall plant sale (2018 in this case) at the UC Davis Arboretum Teaching Nursery. However, this fall's sale will be online, with a rollout of shopping days for members of Friends of the Arboretum. (Photo: Kathy Morrison)
If ever there was a good time to join the Friends of the UC Davis Arboretum, this is it.
After months of postponed plant sales, the Arboretum Teaching Nursery is about to launch its new online plant sale "store," but it will be open only to Friends of the Arboretum and Davis Botanical Society members.
Home to thousands of water-wise favorites as well as drought-tolerant exclusives and California natives, the nursery announced its plant sale plans Monday.
"In appreciation for the support of members, the fall season is members-only shopping," it posted online. "We are rolling out access to the online store first to current members — in waves based on membership tier — to make sure everyone has the best possible experience."
But there will still be an opportunity for newcomers.
"On November 2, we will post the link to the online plant store on this page (
https://arboretum.ucdavis.edu/plant-sales
) and everyone who is not currently a member will be invited to join and shop at that time," the post said.
The pandemic had forced the nursery to cancel its popular in-person one-day plant sales, which regularly attracted thousands of buyers.
According to nursery manager Taylor Lewis, the online concept was tested last week with favorable results. This new method allows buyers to stay safe while also getting the plants they want – just in time for fall planting season.
"There's a huge inventory at the Arboretum Teaching Nursery, so we're confident every member who wants to shop this fall will find wonderful plants," said the nursery's post. "You'll be able to shop from the convenience of home, pay for your order online and then schedule a contact-less appointment to pick up your order curbside at the
Arboretum Teaching Nursery
."
The sales not only benefit local landscapes, but support the arboretum and its work.
"In addition to making your own garden more sustainable, your plant sale purchases support the gardens, education programs and student environmental leaders of the UC Davis Arboretum and Public Garden," said the post. "In these times of fiscal uncertainty, support from people like you is critical."
To join the Friends of the Arboretum and more details on the arboretum's online plant sales:
https://arboretum.ucdavis.edu/plant-sales