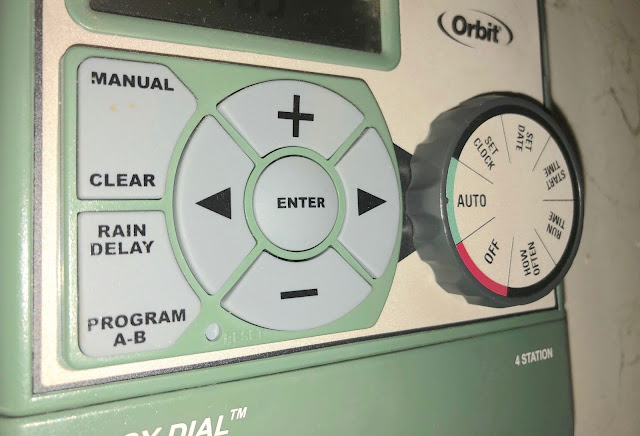 Time to get reacquainted with that device controlling the sprinkler system. Sacramento city residents
can water just once a week starting Sunday and through February. (Photo: Kathy Morrison)
It's time to roll back – not just your clocks, but your water use.
Sunday, Nov. 1, marks the end of Daylight Saving Time. Remember to set your clocks back one hour before you go to bed Saturday night.
But Sunday in Sacramento also marks the start of winter water use restrictions. Sacramento city residents will be cut back to only one day of outdoor watering per week.
According to the City of Sacramento, residents can turn on the sprinklers any time of day or night – as long as it's a Saturday or a Sunday. Unlike the rest of the year, residents are not restricted to "odd" or "even" days, dependent on their address. Instead, they can choose Saturday or Sunday (but not both).
No sprinkler use will be allowed during weekdays. Drip irrigation is exempt.
This rule is in effect through the end of February. Two-day-a-week sprinkler use will be back in March.
According to Sacramento's water rules, "No over-watering (excessive water running off properties and onto sidewalks or gutters, or ponding of water on properties) is allowed, nor is watering allowed within 48 hours of measurable rain (1/8 inch)."
(If you get cited, don't say you weren't warned.)
Why watch our water use? Although officials are holding off calling 2020 a "drought year," it remains very dry. Starting in October 2019, the official water year for Sacramento totaled only 10.87 inches – about 8 inches below normal. Sacramento has received only 0.35 inches of precipitation since April.
For more on Sacramento water rules:
https://bit.ly/2TAayIi
Residents of Citrus Heights, Elk Grove, Folsom, Galt and Rancho Cordova, as well as of the unincorporated parts of Sacramento County, should check with their local water districts for potential winter watering changes.

- Debbie Arrington