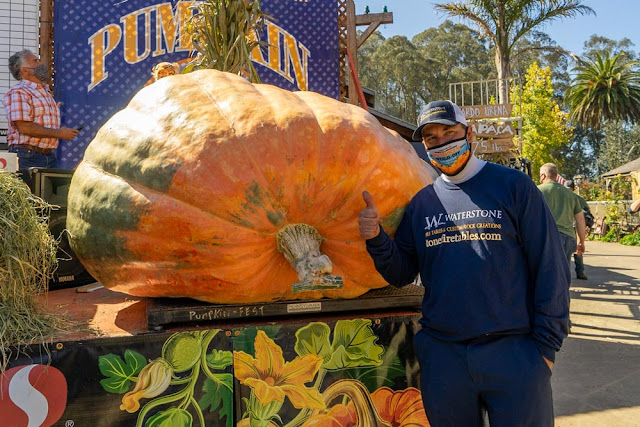 That's a winner! The 2,350-pound Tiger King pumpkin was grown by Travis Gienger of Anoka, Minn. (Photos courtesy of Safeway World Championship Pumpkin Weigh-Off)
This Tiger King conquered Halloween – both in California and Minnesota. Make that all of North America. His tale is inspiration for giant pumpkin growers everywhere.
At a whopping 2,350 pounds, the biggest pumpkin grown this year in North America won the recent Safeway World Championship Pumpkin Weigh-Off in Half Moon Bay. It was the second biggest pumpkin ever to win the contest.
On Halloween day Saturday, Tiger King will roll down the streets (aboard a semi-truck) in the 100th annual Halloween Parade in Anoka, Minn., near where it was grown. Anoka bills itself as the "Halloween Capital of the World."
A first-time contestant in any pumpkin weigh-off, Travis Gienger, 40, grew the gigantic striped pumpkin in Minnesota, then hauled it to Half Moon Bay for the annual weigh-off. At the suggestion of his brother, he nicknamed it "Tiger King" (after the Netflix documentary) because of his prized pumpkin's distinctive stripes.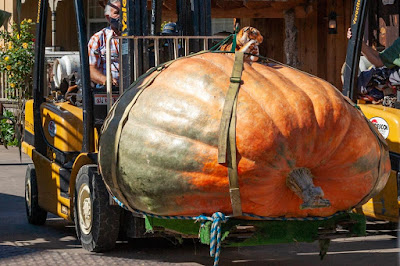 Tiger King rode to the scales along with a stuffed tiger mascot.
Gienger may be new to Half Moon Bay, but he's been a serious pumpkin grower since high school. Tiger King grew from a single seed (for which Gienger paid $80) that was harvested from a 1,501-pound pumpkin.
Originally, Gienger intended to send his pumpkin to the New York Botanical Garden to be carved for a Halloween display. But that event was canceled by the pandemic.
Instead, the grower brought his Tiger King to California.
"We brought (Tiger King) from the Halloween Capital of the World, to the Pumpkin Capital of the World," he said.
Gienger didn't weigh Tiger King until the official contest. He was surprised as anyone by the pumpkin's weight. Measuring 19-1/2 feet in diameter, the massive pumpkin rode to the scale with a stuffed tiger mascot.
The trip was worth it. At $7 per pound, Gienger's prize money added up to $16,450.
After the weigh-in, Gienger loaded up Tiger King and headed back home to celebrate a very happy Halloween.