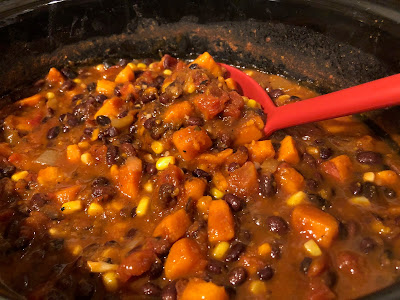 After six-plus hours in the slow cooker, the chili is ready
to serve. (Photos: Kathy Morrison)
The color changes of fall happen inside as well as outside the house. In the kitchen, it's the season of orange vegetables, as winter squashes, pumpkins, carrots and sweet potatoes come into their own.
Sweet potatoes finally are being used for more than marshmallow-topped casseroles -- hello, seasoned fries! -- but these vitamin A-packed tubers have a lot of unexplored potential.
In this recipe, freely adapted from one I found on the New York Times Cooking website, the root vegetable pairs with black beans for a hearty, spicy main dish. A side of cornbread or a green salad are all you need to add to the meal. (Bonus: The kitchen smells amazing while the chili is cooking.)
I simmered this in my slow cooker, but it can be put together on a stovetop without too much trouble. I recommend choosing fire-roasted tomatoes if you're buying cans; I used a 15-ounce can of fire-roasted and a pint jar of home-canned crushed tomatoes in this.
I also peeled one sweet potato and left one unpeeled, to see if there was any difference in texture after cooking, but there wasn't. And I used the cayenne and all 4 chipotles, which kicked the temperature to pretty-hot, but this chili will taste great at any spice level.
Any leftovers can be frozen for a later lunch or dinner.
Spicy Black Bean and Sweet Potato Chili
Serves 6-8
Ingredients: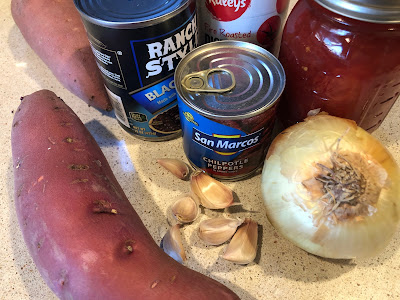 These basic ingredients form the foundation of a great vegan
chili.
3 cups cooked black beans, rinsed and drained (two 15-ounce cans), divided
1 tablespoon vegetable oil
1 large onion, chopped
6 garlic cloves, crushed and chopped
2 large sweet potatoes, about 1-1/2 pounds total, peeled or unpeeled as desired
3-1/2 to 4 cups crushed or diced tomatoes, including juice
1 cup vegetable broth, plus up to 1/2 cup more if needed
Juice of 1 lime (about 1-1/2 tablespoons)
1 to 4 chipotle peppers from a can of chipotles in adobo, chopped, plus 3 tablespoons of the adobo sauce
2 tablespoons brown sugar, packed
2 teaspoons ground cumin
1-1/2 teaspoons salt
1/2 teaspoon ground cayenne pepper, optional
Ground black pepper, to taste
1 cup or more of frozen corn, rinsed to almost defrost it
Optional topping(s):
Crushed tortilla chips, minced red onion, slices of avocado, chopped cilantro, shredded vegan or dairy cheese, or nondairy sour cream
Instructions: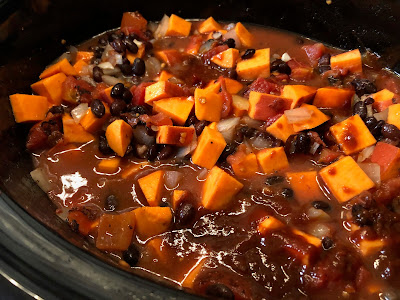 Everything is in the slow cooker and ready to start simmering.



After draining the beans, set aside 1/2 cup, reserving at room temperature. Put the rest of the beans in the slow cooker.
In a skillet on medium-high heat, heat the oil and gently cook the chopped onion just until soft. Add the garlic, and stir, about 1 minute. Don't let the garlic brown. Add onions and garlic to the beans in the slow cooker.
Chop the sweet potatoes into 1/2-inch pieces and add those to the slow cooker. Stir in the tomatoes, broth, lime juice, chipotles and adobo sauce, brown sugar, cumin, salt, cayenne if using, and plenty of black pepper to taste.
Cook on low setting for at least 6 hours. At that point, check the sweet potatoes; they should be tender. If the chili seems watery, mash the reserved black beans and stir them in. If the consistency is fine, stir in the beans without mashing. If it seems too thick, add some of the extra vegetable broth until it's the right consistency.
Taste and add more salt or pepper as desired. Finally, stir in the corn to warm through. (One cup seemed fine to me, but add more corn if desired.)
The chili can continue to cook for up to 2 more hours, depending on serving time, or it can hold on warm.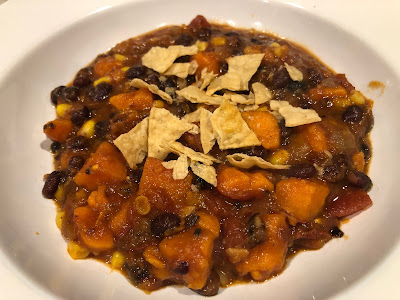 A healthy, spicy chili is perfect for a cold night.

Serve in bowls with desired topping, or set a selection of toppings out on the table and let everyone choose among them.