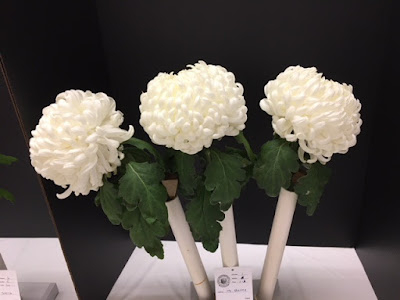 This trio of Mount Shasta mums was a winner
at an earlier show. (Photo courtesy Sacramento
Chrysanthemum Society
This show will go on!
This weekend, the Sacramento Chrysanthemum Society along with the Sacramento Floral Design Guild will present the 73rd annual Sacramento Chrysanthemum Show.
Open free to the public, the show will be held at Shepard Garden and Arts Center, 3330 McKinley Blvd., Sacramento, in McKinley Park. Show hours are 1 to 4 p.m. Saturday, Nov. 7, and 10 a.m. to 3 p.m. Sunday. Nov. 8.
Since the COVID-19 pandemic and restrictions on gatherings began in March, the mum show will be the first public flower show to be presented at Shepard Center. Although there have been few opportunities to celebrate and admire flowers in a traditional public gathering, that doesn't mean flower lovers and exhibition growers have stopped gardening.
"The (show) theme is 'Flower Power,' appropriate since growing of flowers and vegetables has helped us maintain our sanity for the past months during the pandemic," said longtime society member Sharon Peterson, who helped organize the mum show.
Precautions will be taken to keep everyone safe and healthy.
"Masks are required and social distancing will be observed," Peterson said.
Besides exhibition quality mums and creative flower arrangements, the society will offer blooming mum plants for sale.
Details and directions:
www.sgaac.org
.