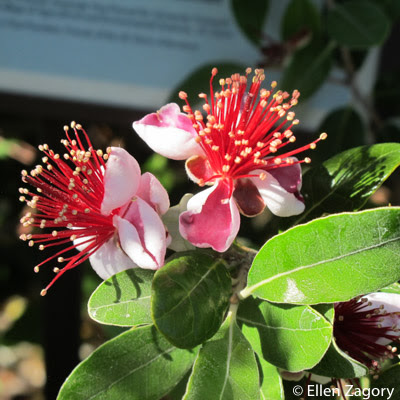 Pineapple guava ( Acca sellowiana ) is an Arboretum All-Star
that can be grown as a shrub or hedge or trained as a tree.
It produces fruit and, as the photo shows, it has a very pretty
flower. The Arboretum Nursery has both 1-gallon and
3-gallon sizes on sale now. (Photo by Ellen Zagory,
courtesy UC Davis Arboretum Teaching Nursery)
Need plants? Come on down!
After testing its online sales system with longtime supporters, the UC Davis Arboretum Teaching Nursery has now opened its virtual plant sales to all gardeners – but first they need to become Friends.
Specifically, shoppers need to join the arboretum's support group, Friends of the UC Davis Arboretum and Public Gardens.
"Our fall season is members-only shopping for members of the Friends of the UC Davis Arboretum and Public Garden and members of the Davis Botanical Society," according to the arboretum's website. "Anyone who would like to shop is welcome to join as  new member. … We will be verifying membership status of everyone who places an order. Thank you for your membership support!"
Memberships are available at different levels of benefits. But one big perk is immediately available – 10 to 20% discounts on plant sales.
After joining Friends, the next step is selecting plants – and there are a lot of choices. Nursery staff posted 560 varieties online. Those selections are broken down into popular themes such as drought-tolerant Arboretum All-Stars (49 are currently in stock) and California natives (84 for full sun, 24 for shade). Here's a link to the arboretum's new online plant store:
https://bit.ly/38c40bB
Can't decide? Need suggestions? Arboretum experts are available for online consultations, too.
After choosing and purchasing plants, customers then arrange for contactless curbside pick-up by appointment.
"There's a huge inventory at the Arboretum Teaching Nursery, so we're confident every member who wants to shop this fall will find wonderful plants," according to the website. "You'll be able to shop from the convenience of home, pay for your order online and then schedule a contact-less appointment to pick up your order curbside at the
Arboretum Teaching Nursery
.
"In addition to making your own garden more sustainable, your plant sale purchases support the gardens, education programs and student environmental leaders of the UC Davis Arboretum and Public Garden. In these times of fiscal uncertainty, support from people like you is critical."
To find out more and sign up:
https://arboretum.ucdavis.edu/online-plant-sales