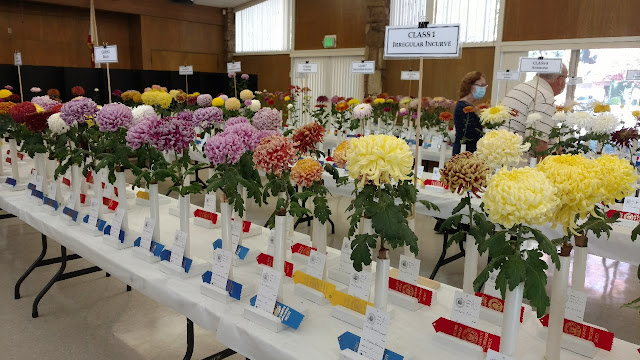 Mums fill Shepard Center during 73rd Sacramento Chrysanthemum Show. (Photos: Debbie Arrington)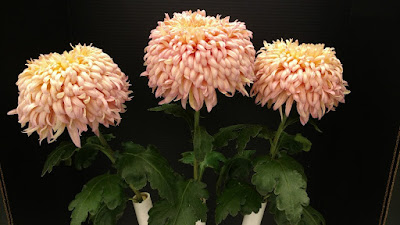 Tamara Bliley's trio of Peach Courtier's mums
took Queen of Show honors.
Some people will go to great lengths for their flowers. For Tamara Bliley, that commitment paid off.
With fragile cargo, Bliley drove nearly 600 miles to enter her mums in the 73rd annual Sacramento Chrysanthemum Show. She took home best in show.
Her trio of perfectly matched Peach Courtier reflex mums wowed the judges and earned top honors, Queen of Show.
President of the Portland Chrysanthemum Society, Bliley entered 65 mums in the Sacramento show, which was open to all comers. Held at Shepard Garden and Arts Center on Nov. 7 and 8, the show attracted entries from throughout California as well as Oregon.
What's even more impressive, Bliley also won best in show honors the weekend before at Portland's annual show. She lives and gardens in Oregon City, Ore., 15 miles southeast of Portland.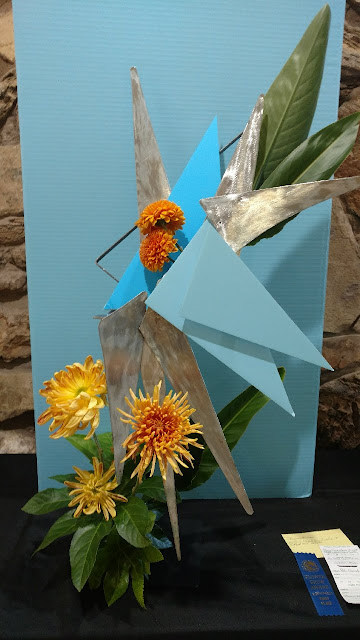 Pat Gaston won a trophy for this spectacular arrangement.
"She actually entered more flowers in our show than her own," said Sharon Peterson of the Sacramento Chrysanthemum Society.
The first major flower show in Sacramento since the start of the COVID-19 pandemic in mid-March, the mum show filled Shepard Center with hundreds of exhibition blooms. Members of the Sacramento Floral Design Guild also participated with several spectacular arrangements.
Obeying pandemic guidelines, patrons wore face masks and kept socially distanced, Peterson said.
In all, about 20 mum growers exhibited blooms. Several flower arrangers also participated.