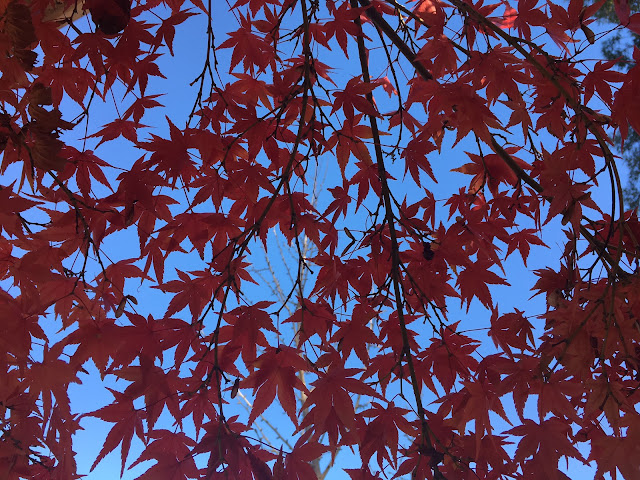 All those beautiful leaves will be on the ground soon. (Photo: Kathy Morrison)
Keep your umbrella handy! After showers this weekend, rain likely will be back soon.
According to the National Weather Service , Sacramento can expect a quarter inch of rain on Tuesday, followed by another quarter inch on Thursday, with possible showers and drizzle in between.
The cloud cover that goes with this storm system will keep temperatures cool, but not freezing. Highs this week are expected to reach only the low 60s, but overnight lows will hover around 50 degrees – still relatively warm for November.
The good news: This moisture will soften the ground – great for planting!
* Turn off the sprinklers during this rainy week.
* Check soil moisture to make sure that precipitation is actually soaking in. Provide extra irrigation as needed.
* Rake and compost leaves. Don't let leaves pile up in the gutter and block drainage.
* Save dry stalks and seedpods from poppies and coneflowers for fall bouquets and holiday decorating.
* Give your azaleas, gardenias and camellias a boost with chelated iron.
* Prune non-flowering trees and shrubs while dormant.
* Keep planting bulbs to spread out your spring bloom.
* This is also a good time to seed wildflowers and plant such spring bloomers as sweet pea, sweet alyssum and bachelor buttons.
* Now is the best time to plant most trees and shrubs. This gives them plenty of time for root development before spring growth. They also benefit from fall and winter rains.
* Set out cool-weather annuals such as pansies and snapdragons.
* Lettuce, cabbage, broccoli, chard, kale and other winter greens also can be planted now.
* Plant garlic and onions.
Chard and other cool-season favorites can be planted now.