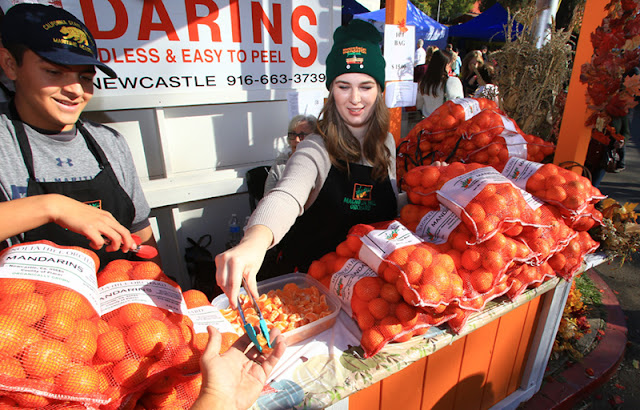 All vendors will be outdoors this year at the Mountain Mandarin Marketplace,

but no sampling will be allowed. (Photo courtesy Mountain Mandarin Marketplace)





Renamed 'Marketplace,' former festival will host both live and virtual
events
With COVID restrictions in place, Placer County's beloved Mountain Mandarin celebration will go on, but with a new name and online options.
Now called "Mountain Mandarin Marketplace" (instead of Mountain Mandarin Festival), the 27th annual event will be held Friday through Sunday, Nov. 20-22, at the Gold Country Fairgrounds, 1273 High St., Auburn.
Hours are 10 a.m. to 5 p.m. Friday, 9 a.m. to 5 p.m. Saturday and 10 a.m. to 4 p.m. Sunday. Admission: $4 Friday, $6 Saturday and Sunday. Children under age 12 admitted free. Parking: $3.
Attendees will be required to sign a liability waiver and must wear a face mask.
The focus will be totally on the fruit: Placer-grown mandarins. A dozen mandarin growers plus 110 vendors of mandarin-related products will be selling their crops and wares in mostly outdoor spaces.
The usual cooking demonstrations and stage shows have been canceled, but there will be lots and lots of food and gift ideas, say organizers. Plus expect a bountiful crop of early-ripening citrus.
By comparison, the 2019 festival boasted 224 vendors and 17 growers, attracting more than 25,000 patrons.
Don't want to chance a large public gathering? A virtual version of the event is open online now through Christmas Day. About 30 Placer vendors and growers will offer their fruit and other goodies, shipped directly to your home or other recipients. The online shop is at
https://mandarin-marketplace.myshopify.com/
Event details and links:
www.mandarinmarketplace.com
or
www.mandarinfestival.com
.
— Debbie Arrington