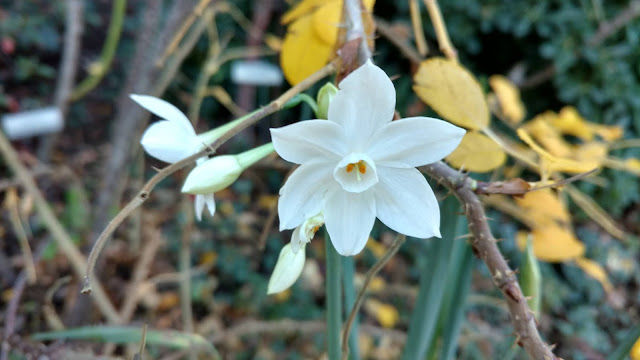 After forcing indoors, paperwhite narcissus can be planted outdoors, where they may bloom again in fall. (Photo: Debbie Arrington)
Now is paperwhite season. A close cousin to daffodils, this old-fashioned favorite is easily "forced" indoors, bringing its strong scent and charming flowers into any room.
These narcissus bulbs also make a fun gift for gardening friends – or for yourself.
To time these flowers for Christmas week (or just before), plant paperwhite narcissus bulbs without soil. All you need are the bulbs, something for them to sit on and a shallow dish or bowl.
Here's how to force paperwhites:
* Fill a shallow bowl or dish with 2 inches of rocks, pebbles or glass beads.
* Place bulbs in the dish with the root end nestled in the rocks.
* Add water until it just touches the bottom of the bulbs.
* Place the dish in a sunny window. Add water as needed.
* After the narcissus finish blooming, plant bulbs outdoors in the garden. They'll return year after year – sometimes blooming in fall, sometimes in very early spring. And sometimes both!
This same method also works for other small-flowering narcissus as well as showier hyacinths.