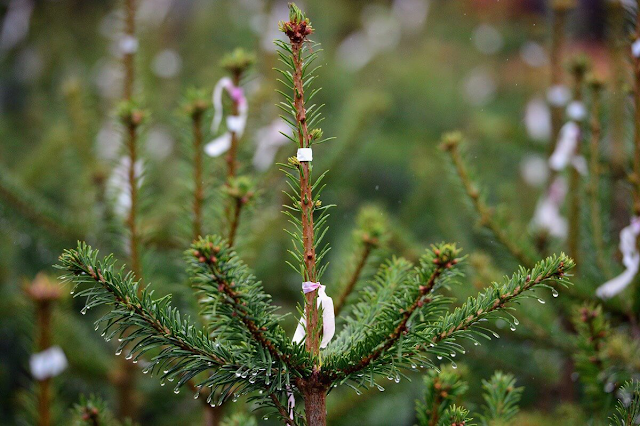 El Dorado County tree farms are now open, with COVID-19 safety requirements for customers.
(Photo courtesy visit-eldorado.com )

Some traditions continue during this most unusual holiday season. That includes Christmas tree season on Apple Hill.

With COVID safety requirements in place, most El Dorado County Christmas tree farms are now officially open for business. After years of growth, their trees are ready for customers.

But remember to bring your face mask.
"Masks are required in the sales and tree-baling area," wrote the Kobervig family on their Crystal Creek Farm website,
http://caminotrees.com
. "Please limit the people in your group that enter this area. We disinfect all saws and shared items."

On 20 acres in Camino, the Kobervigs grow a large assortment of trees.

"We have several varieties of trees including: White Fir, Silver Swift Fir, Silver Tip, Douglas Fir, Noble Fir, Blue Spruce, Nordmann Fir and Grand Fir," they wrote.

The flat price of $75, cash or check, includes tax and packing materials.

Outdoors and away from crowds, Christmas tree hunting can be a safe family activity. Most farms have plenty of room for social distancing, and invite visitors to walk around. Some offer tables for picnicking. Dogs on leashes are often welcomed.

Most of these farms operate as choose-and-cut, not cut your own. All customers need to do is pick one. But if they still want to saw, sanitized tools are available.
"We are owned and operated by a family that was one of the first 'Choose and Cut' tree farmers in El Dorado County more than 55 years ago," wrote Cathy Morgan of Carson Ridge Evergreens, also in the Camino area near Placerville (
https://carsonridgeevergreens.net/
). "You choose the tree, we cut it for you or show you how to do it yourself."

Beautiful clear and crisp weather is forecast for this weekend and the next several days, making this prime tree hunting time.