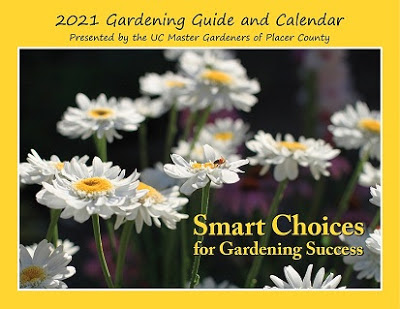 The Placer County master gardeners' Gardening Guide and
Calendar is geared toward foothill gardening and weather
Show your love for the experts who help make us all better gardeners: Our local master gardeners!
At the same time, spread the joy of gardening – or become a more knowledgeable gardener yourself.
In honor of Giving Tuesday, support your county's UC Cooperative Extension master gardener program while also picking up a perfect gift.
Two local programs have just the ticket for both donations and gift giving: Annual garden guides and calendars.
These publications are major fundraisers for the Placer County and Sacramento County master gardener programs. But with fewer live events during pandemic restrictions, the sale outlets for these publications are fewer, too.
Current interest in gardening continues to grow, and that's made the 2021 editions much sought-after.
"Some of our vendors have already sold out," reports Pauline Sakai of the Placer County master gardeners.

With the theme "Smart Choices for Gardening Success," this is the 29th edition of the Placer master gardeners' award-winning calendar and garden guide, geared towards foothill gardening and weather patterns.

Featuring planting, growing and harvesting tips, the 13-month calendar and guide includes in-depth articles for every season. Among the topics: Soil testing, planting bare-root berries and trees, how to choose the right tools for the job, seed saving, planting for small spaces and how to help bees.
Priced at $10, the calendar is available at several nurseries and gardener-friendly locations in Placer, Nevada and El Dorado counties. Check the website
http://pcmg.ucanr.org/2021_Calendar/
for an updated list of locations to buy the calendar.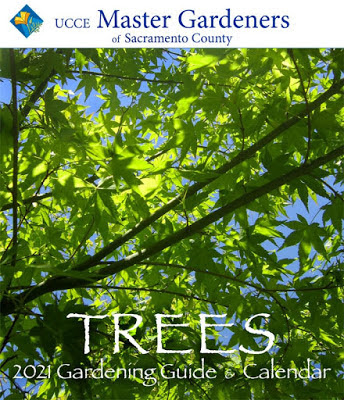 Sacramento's 2021 publication looks up -- at trees.
(Photo courtesy sacmg.ucanr.edu )
Meanwhile, Sacramento County focused its 2021 gardening guide and calendar on a favorite Sacramento topic: Trees!
Also priced at $10, the large vertical-format calendar features a beautiful photo (and growing information) of an appropriate tree each month.
It's packed with gardening tips and appropriate reminders, geared to seasonal tasks. Planting charts and other useful information are also included. Get yours at
http://sacmg.ucanr.edu/Gardening_Guide/
or from the vendors listed on the website.