Persimmon season always makes me think of Jean Brine, Sacramento's Persimmon Lady.
Back in 2010, this retired state worker wrote the definitive persimmon recipe book to answer any query about what to do with too many persimmons. Titled "Perfectly Persimmon," her spiral-bound cookbook contains 1,010 recipes for persimmons.
The 440-page book features persimmon ideas for both Fuyu and Hachiya varieties, and everything from appetizers and salads to desserts and sauces.
"When you speak of persimmons, the only thing that comes to 90 percent of people is, 'Oh, I love persimmon cookies!' " Brine said in an interview after her book was released. "But that's just a drop in the bucket of what you can do with persimmons."
Looking for something different to do with my Fuyus, I turn to her cookbook often during persimmon season. My persimmons are now at the super-ripe and mushy stage, perfect for baking.
This breakfast cake is hardy enough for a frosty morning and smells wonderful baking in the oven.
Brine's cookbook is still available on Amazon. If you have a plentiful supply of persimmons, it's an excellent addition to your kitchen library.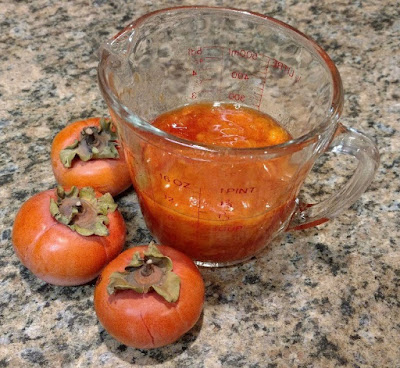 Fuyu persimmons are the squat ones that can be eaten ripe

or crisp.

Spicy Persimmon Brunch Cake
Makes 9 servings
Ingredients:
1-1/4 cups pureed persimmons
1 teaspoon baking soda
½ cup (1 stick) butter or margarine, softened
1 cup sugar
2 cups all-purpose flour
2 teaspoons baking powder
¼ teaspoon salt
1 teaspoon cinnamon
½ teaspoon ground nutmeg
½ teaspoon ground cloves
1 teaspoon grated orange rind
½ teaspoon grated lemon rind
½ cup chopped walnuts
Powdered sugar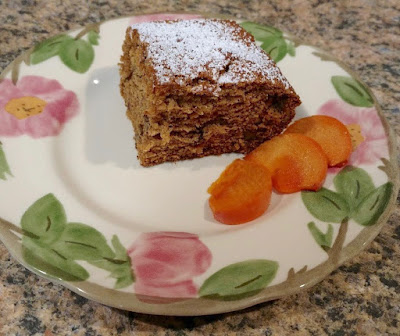 This cake is a lovely choice for brunch or dessert.



Instructions:
Preheat oven to 350 degrees F.
Grease and flour an 8-inch backing pan.
In a small bowl or measuring cup, stir together persimmon pulp and baking soda. Set aside.
In a large bowl, cream together butter or margarine and sugar until fluffy. Add persimmon mixture; stir well.
In another bowl, sift together flour, baking powder, salt and spices. Gradually blend flour mixture into the persimmon/butter mixture. Stir in orange and lemon rinds and chopped nuts.
Spoon batter into baking pan and smooth into an even layer.
Bake at 350 degrees for 40 to 45 minutes or until a toothpick inserted near the center comes out clean.
Let cool at least 10 minutes before removing from pan. Sprinkle with powdered sugar.
Serve warm.
Adapted from "Perfectly Persimmon" by Jean Brine (Morris Press Cookbooks, 2010).