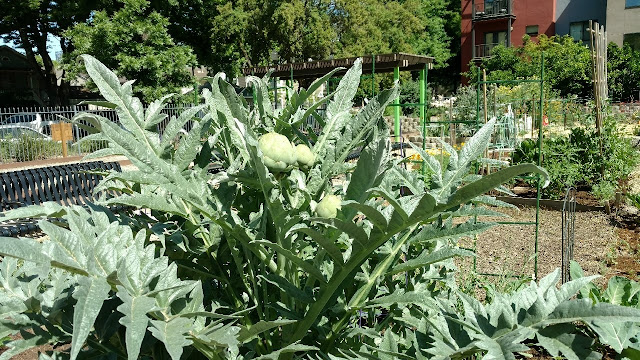 This artichoke plant is a star at the Fremont Community Garden on Q Street in midtown. It is one of 17 community gardens operated by the City of Sacramento. (Photo by Debbie Arrington)
With renewed interest in food gardening, plots in Sacramento-area community gardens continue to be in high demand.
But if you're looking for a plot, you'll need to wait until next year.
Due to pandemic-related restrictions in Sacramento County, the City of Sacramento put a hold on assigning new plots to gardeners until "stay-at-home" orders are lifted. The greater Sacramento region will be under new shelter-in-place rules, effective at 11:59 p.m. Thursday night.
Fortunately, Sacramento's 17 city-run community gardens will still be open to member gardeners. They must wear masks while tending their plots and should bring disinfectant wipes to clean any shared tools.
"We're seeing continued demand (for plots)," said Bill Maynard, Sacramento's community garden coordinator. "Lots of retired folks in particular want plots."
Sacramento continues to expand its community garden network. "We just opened one in Northwest Natomas at Blackbird Park," Maynard said. "We sold out of all 54 plots in two weeks. We have 36 people on the waiting list.
"Another garden is coming near the (Interstate) 5 and (Highway) 99 split," Maynard added. "We're shooting for 24 (gardens) by 2024."
With such high demand, Sacramento has gotten creative with garden placement. For example, the Sojourner Truth Garden – located adjacent to the Robbie Waters Pocket-Greenhaven Library and Sacramento's School of Engineering and Sciences – was planted entirely on top of the parking lot.
"We built the garden beds on asphalt," Maynard explained. "The beds have two feet of soil. We have room for 36 gardeners."
Due to its location, the Sojourner Truth garden is also popular with the high school's teachers. Four plots are dedicated to school and class use.
For a full list of Sacramento's city-run community gardens:
https://bit.ly/3gHKDtf