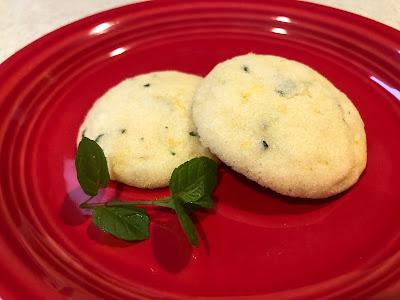 Lemon and mint add flavor notes to these little
tea cookies. (Photos: Kathy Morrison)
Lemon says "winter" to me as much as cinnamon and ginger do. It must be because Californians' lemon trees -- the Meyers, Eurekas and other varieties -- this time of year are full of beautiful yellow fruit, contrasting so nicely with the shiny green leaves.
Lemon also is a wonderful partner with fresh herbs. When I went looking for a lemon cookie recipe, I found quite a few that incorporated thyme and some that had rosemary, but the one that caught my attention included fresh mint. Alternative herbs mentioned included lemon balm -- which is also part of the mint family -- and lemon verbena. That recipe I had to try. (It's at landolakes.com , if you want to see the original.)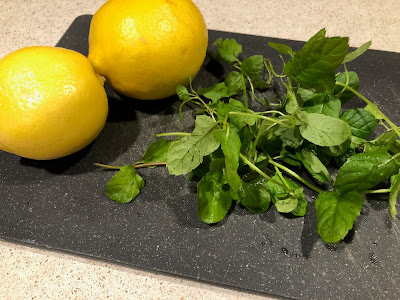 Lemon and mint are complementary flavors. The leaves from
these mint snippings produced 2 tablespoons chopped mint.
I doubled the amount of lemon zest and fresh mint listed, and reduced the sugar. (I also used tart lemons, not the mellower Meyers.) The resulting cookie is small, delicate and still pretty sweet -- an ideal cookie to accompany a cup of afternoon tea. The mint is subtle. Next time I'm going to try the recipe with fresh lemon verbena. To really up the lemon factor, I might use a bit of lemon extract instead of the vanilla.
Meanwhile, I have half of this first batch already rolled and frozen, reserved for another grey winter day.
Lemon minted sugar cookies
Makes about 50 two-inch cookies
Ingredients:
1/2 cup (1 stick) unsalted butter, softened
1/2 cup vegetable shortening
3/4 cup granulated sugar
1 large egg
1/4 teaspoon vanilla extract or lemon extract
2 cups unbleached all-purpose flour
1/2 teaspoon baking soda
1/2 teaspoon salt
2 tablespoons grated lemon zest (from 2 large lemons)
2 tablespoons finely chopped fresh mint leaves, lemon balm or lemon verbena

Sugar for rolling
Instructions:
In a large bowl, cream the butter and shortening with the sugar until fluffy. Add the egg and whichever extract you're using, and mix thoroughly.
In a small bowl, whisk together the flour, cream of tartar, baking soda and salt. On low speed, mix half the flour mixture into the butter mixture until combined, then the remaining half. Gently stir in the lemon zest and chopped mint.
Chill the dough at least 30 minutes. (You can bake it right away, but chilling makes the dough easier to roll and keeps it from spreading too much.)
When ready to bake, heat the oven to 350 degrees. Prepare a baking sheet with parchment paper, or just leave the sheet ungreased.
Put about 1/3 cup granulated sugar in a small bowl. Roll the dough into 1-inch balls; I used a melon-baller to keep them all the same size. Then roll the balls in the sugar so they're just coated, and place on the prepared pan abut 2 inches apart. No need to flatten them.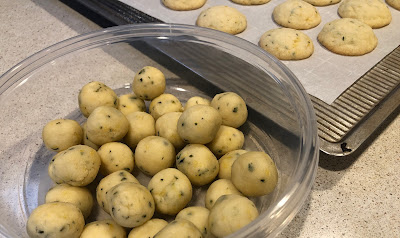 I baked two dozen cookies and froze the rest of  the batch
for another day.
Bake for 10-12 minutes, until cookie edges are very lightly browned. Cool on a rack for a few minutes before removing to cool completely.
To freeze cookie dough: Roll into balls, but don't roll in the sugar coating. Freeze until ready to bake, then roll in sugar and bake dough without defrosting it. Cookies will require a minute or 2 more in the oven, but do keep an eye on them.