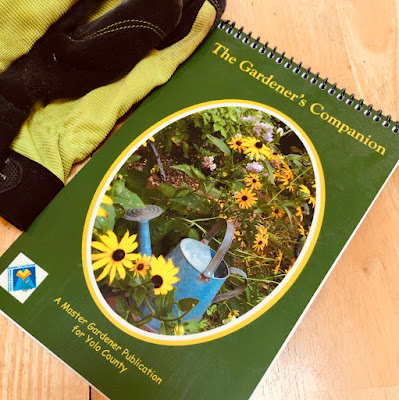 The Gardener's Companion is a journal, gardening guide,
monthly checklist and planting adviser all in one. It's available
for $5 from the UCCE Yolo County master gardeners. (Photos:
Kathy Morrison)
Here's a practical gardening gift to give – and pick one up for yourself, too: A garden journal designed for local gardeners.
The UCCE Yolo County master gardeners offer "The Gardener's Companion," a handy garden journal with built-in and localized tips.
Sold at the master gardeners' booth at the Davis Farmers Market, this handy journal includes monthly planting guides, garden checklists and a vegetable planting guide. It also features tips on growing drought-tolerant plants as well as growing guides for tomatoes, perennials, roses, citrus and trees.
You'll also find more advice from the experts on Yolo County gardening. (Those tips work in neighboring counties, too.) Plus there's room to keep your own notes on how your garden grows, what was planted when and other essential information.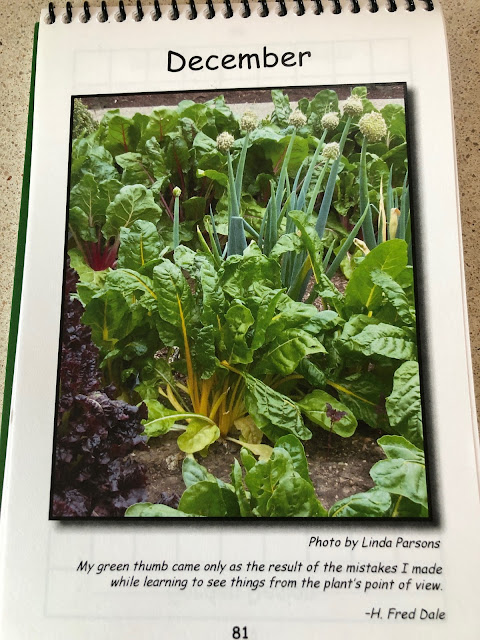 This beautiful display of greens opens the
December section of the publication.
And the price? Only $5! All proceeds benefit Yolo County master gardener programs.
Located in Davis Central Park, the Davis Farmers Market is open from 3 to 6 p.m. Wednesdays and 8 a.m. to 1 p.m. Saturdays.
Learn more at:
http://yolomg.ucanr.edu/
.
— Debbie Arrington