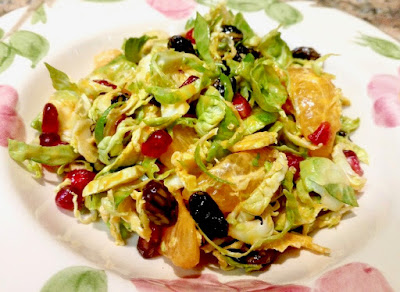 How pretty is this Brussels sprouts slaw? Easy
to make, too. (Photos: Debbie Arrington)
With good-tasting tomatoes in short supply, winter salads need to be creative.
This simple slaw is delicious with a variety of textures, flavors and colors, thanks to an unusual combination of featured ingredients – raw Brussels sprouts, mandarins, pomegranates and raisins.
Adding crunch as well as sweetness, the pomegranate arils (the seed sacs) look like little rubies in this flavorful slaw. If you use bottled dressing, this winter salad goes together in a snap.
Bejeweled Brussels sprouts slaw with mandarins
Makes 4 servings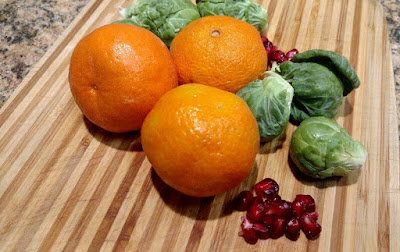 Winter salads can be as colorful as summer ones with these

fresh ingredients.




Ingredients:

1 cup Brussels sprouts (about 12), thinly cut or shaved

3 mandarins, peeled and separated into segments

¼ cup pomegranate arils

¼ cup raisins

2 to 3 tablespoons creamy French dressing (see below)

Instructions:
In a large bowl, combine thinly sliced Brussels sprouts, mandarin segments, pomegranate arils and raisins. Lightly toss to combine.
Add French dressing, lightly toss until ingredients are coated.
Serve.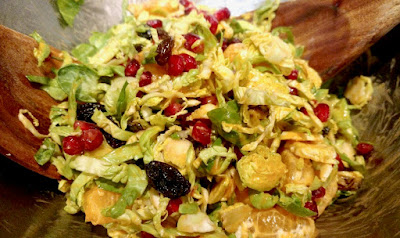 Toss the salad ingredients lightly in purchased or homemade
French dressing.
Note: Slaw can be made in advance and chilled, covered, before serving.
For creamy French dressing:
Use your favorite bottled creamy French dressing, or make your own.
In a food processor, combine 1-1/2 tablespoons white wine vinegar, 1 tablespoon sugar, 1 teaspoon paprika, ½ teaspoon Worchestershire sauce, 1/8 teaspoon seasoning salt and 1/8 teaspoon dry mustard. Pulse once or twice to combine.
In a slow and steady stream, add 3/8 cup (3 ounces) olive oil or salad oil. Process until thickened, about 2 minutes. Store extra French dressing covered in the refrigerator for up to two weeks.