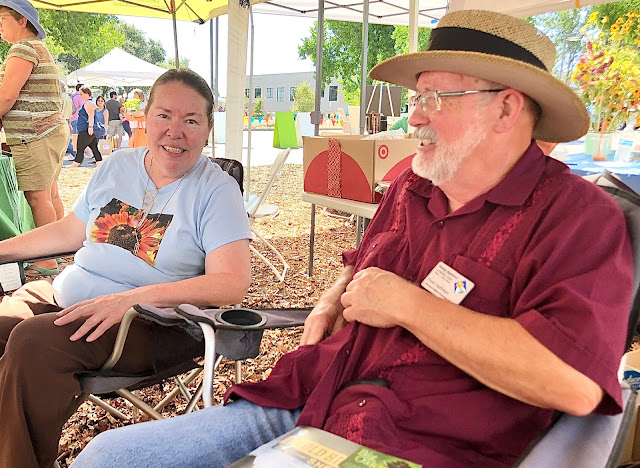 Debbie Arrington chats with Fred Hoffman during Harvest Day 2019, at the Fair Oaks Horticulture
Center. Hoffman, a lifetime UCCE master gardener, is retiring from his live radio shows. (Photo:
Kathy Morrison)
Popular host Hoffman to concentrate on new 'Garden Basics' podcast
It's the end of an era on Sacramento radio: Farmer Fred is leaving the airwaves.
Beloved by thousands of regular listeners, Farmer Fred Hoffman made the surprise announcement at the end of his Sunday broadcasts on KSTE and KFBK. Those were his last live shows. (Both stations will broadcast gardening shows pre-recorded by Hoffman the next two Sundays.)
"I'm refocusing, not retiring," Hoffman said in a phone interview Monday. "I'm focusing on my new 'Garden Basics' podcast, and for that to be successful, it needs a multimedia approach. So I'm learning web design, video production, newsletter skills and more. It's like I'm going back to school. I couldn't do that with 30 hours a week devoted to radio production."
So Hoffman decided to step away from the studio microphone and concentrate on what he sees as the future of listenable gardening advice.
"At heart, I'm still a broadcaster," he said. "There's only a two-letter difference between 'broadcasting' and 'podcasting.' Podcasting is broadcasting without the 'bra.' "
That sort of quip – along with infinite gardening know-how – is what's made Hoffman such a popular and entertaining "radio guy" for so many years. He's won numerous awards from the Garden Writers Association (now GardenComm, Garden Communicators International) for his radio shows as well as his TV work on "California Heartland."
"I posted my farewell on Facebook and the comments people made have been truly heart warming," he said. (Read it at
https://www.facebook.com/Get-Growing-with-Farmer-Fred-101135776596504/
)
Hoffman, 69, started his broadcasting career in 1969 in college radio. After early gigs in Fort Bragg, Stockton and Modesto, he became a Sacramento radio regular in 1975.
"I've done every kind of format: Easy listening, classical, rock and roll, talk radio, country, you name it," he said. "I worked for three stations – KRAK, KGNR and KZAP – that no longer exist."
Hoffman's "Farmer Fred" persona debuted in 1982 on country station KRAK's 5 a.m. farm hour, when Hoffman regularly chatted about gardening with another local radio legend, Walt Shaw.
"I became 'Farmer Fred' because it was the Farm Hour," Hoffman explained. "But I managed to squeeze in gardening wherever I went."
Hoffman was more than a casual gardener; he earned his UC Cooperative Extension master gardener certification in 1982, and has maintained it ever since.
At KGNR in 1983, Farmer Fred debuted a two-hour weekly garden talk show at 10 a.m. on Fridays.
"It was part of their general talk show format," he explained. "It fit, something fun on Fridays to get you ready for the weekend."
On Nov. 1, 1992, Talk 650 KSTE first signed on the air with Hoffman as one of its original employees. Through several ownership changes, he stuck. "Get Growing," his weekly KSTE show, has been on that station for 28 years.
Eventually, he picked up hosting duties of "The KFBK Garden Show," after the retirement of host Dan Pratt in 2001. Before that, Hoffman had subbed regularly for Pratt.
Both stations had the same owner, Hoffman recalled. "It made sense that I did both shows."
For almost 20 years, Hoffman broadcast the two live shows, back to back, chatting with guests and listeners. Those listeners became like family.
"I don't even think of you as listeners," he told his audience during his farewell broadcast. "We are a gardening community. We're friends and neighbors who are bound together by our love of soil, plants, and the outdoors. It's been wonderful to chat with you about peppers and perennials, instead of politics and pandemics. All of us need a regular breaks from that. I'm glad I could provide that respite for you and me."
During his Sunday broadcast, Hoffman also thanked his longtime advertisers and his wife, Jeanne.
He hopes his listeners now will tune into his ongoing podcast, available at
www.farmerfred.com
.
"You're not a listener, you're a friend," he said of his audience. "That's the way I approached every broadcast. I think I can continue that relationship with the podcast."