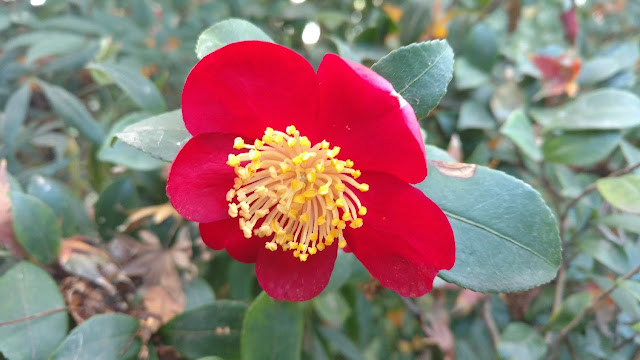 Christmas camellias (Camellia sasanqua) brighten gray winter days. Pick some blossoms for indoor
display before the rains arrive later this week. (Photos: Debbie Arrington)
What would the holidays be in Sacramento without Christmas camellias?
In the Camellia City, these distinctive blooms add a cheery note to early winter days. Long-lasting as a cut flower, they look as good in a vase as they do on the bush.
Camellia sasanqua
, a close cousin to the February-blooming Japonica camellias, blooms when weather conditions are just right, which is usually early December in Northern California.
Those first flowers can often appear much earlier in fall. This season, my Christmas camellias started blooming around Halloween. Dry and mild weather has kept them in flower ever since. Almost eight weeks later, the bushes are still covered with blooms – and living up to their nickname as Christmas camellias.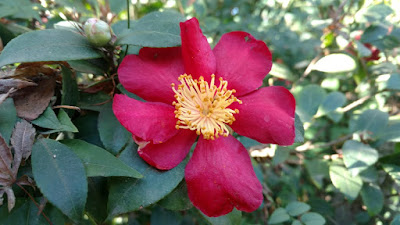 Bees and hummingbirds love camellias, too.
Usually big red or dark pink flowers with distinctive gold centers, Christmas camellias also make excellent cut flowers. Put a stem of blooms in a tall vase or float individual blooms in a shallow bowl of water.
The most popular variety is the aptly named Yuletide with true red petals and a large gold center. Hybridization expanded the Christmas camellia palette to white and soft shades of pink as well as traditional Christmas red. Among those non-red Christmas camellias are Cleopatra (light rose-pink), Survivor (white) and Kanjiro (rose-pink). Peony-flowered Autumn Moon (white) and Autumn Spirit (pink) look very much like February-flowering Japonicas.
You may see examples at local nurseries. (And yes, camellias can be transplanted now.)
Christmas camellias have a reputation for hardiness. They're tougher than Japonica varieties and can take more abuse. They can tolerate drought conditions and colder temperatures. Although they prefer filtered shade or dappled sunlight, Sasanqua camellias also can take more full sun than Japonica camellias.
Enjoy your Christmas blooms now. Once cold rain begins to pelt the flowers, they'll start dropping off the bushes in bunches. Pick up and dispose of those fallen flowers to help prevent petal blight, a fungal disease that turns camellia petals prematurely brown. Otherwise, those spores will hang around and infect the Japonica camellias getting ready to flower in February.
As they finish flowering, prune Christmas camellias lightly to remove any dead wood or to gently shape. They don't need much, but selective pruning can promote bushiness, upright growth and more bloom next winter.

Then, feed with an acid-type fertilizer formulated for camellias, which prefer slightly acid soils.
But don't feed your Japonica camellias until after they finish blooming in early March. Feeding while camellias are in bloom (or about to bloom) may cause them to drop unopened buds.

April is the best time to shape Japonica camellias, after they've finished their bloom cycle. Like the Sasanqua, the Japonicas need little if any trimming. Both species grow very slowly – and for a very long time. Healthy camellias can live for several decades.

Which means you'll have Christmas camellias for many holidays to come.