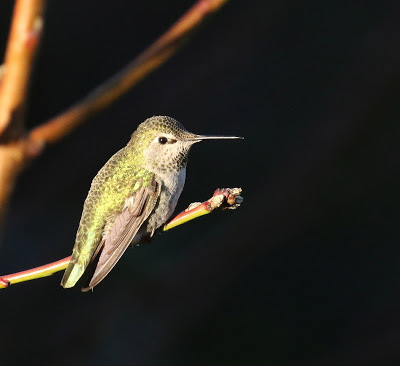 This Anna's hummingbird was photographed around Clear Lake
by Vicki Miller during the 117th Annual Christmas Bird Count.
(Photo courtesy audubon.org)


Normally at this time of year birders and other wildlife lovers would be well into the traditional Christmas Bird Count, an annual effort hosted by the Audubon Society. This year marks the 121st such count.
Counting is a group effort, with coordinators assigned to specific areas known to attract a lot of migrating birds. Each compiler is responsible for coordinating the count in a 15-mile circle, staffed by volunteers.

In an all-day effort, the volunteers count every bird they see along an established route in the designated circle.

California typically hosts 120 Christmas Bird Count locations. One of the more active ones, not surprisingly, is in the Sacramento area.
However, this year, because of the COVID-19 risk in gatherings, some of the "circles" have been canceled, including the main Sacramento circle and the ones in the Marysville and Stockton areas. Other counts are being conducted in accordance with social distancing and other safety guidelines.
Circles indicating availability include the Folsom Lake area, Lincoln, Grass Valley and Wallace-Bellota, but no dates are listed. The Sherman Island count will be New Year's Day, the Calaveras one on Jan. 2. (The latter is in need of experienced birders.) The Putah Creek circle count (near Winters) was held Dec. 20.
Anyone who would like to participate is asked to contact the circle coordinator directly via email. Pop-ups with contact information are on
this map
.