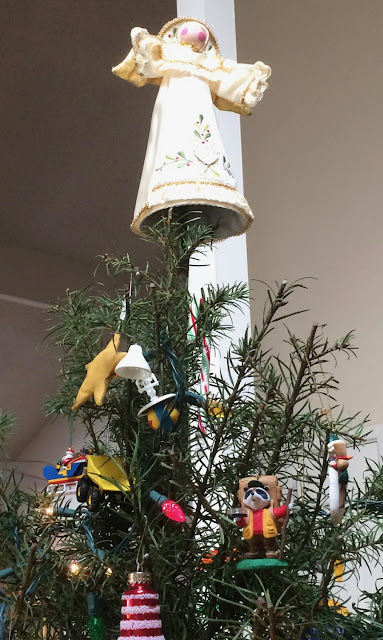 As lovely as a real tree is for Christmas, it does
need to be disposed of after the holidays.
Recycling or composting is best. (Photo:
Kathy Morrison)
Is your Christmas tree (almost) ready for recycling?
The City of Sacramento makes Christmas tree recycling relatively easy. Real trees (not the fake kind) are considered green waste and can be added to the street leaf piles out front. Last pick-up is Jan. 24.
Or the tree can be cut up and put into the green waste container. (Make sure the lid can still close.)
Before putting the tree in the street or the waste container, remove any tinsel or other decorations, tree stands, lights or nails. Flocked trees will be accepted.
In addition to tree pick-up, Sacramento offers tree recycling drop-off locations, specifically for business and residents that don't get street service. The trees are turned into mulch.
The dates, times and locations for those free drop-off events:
* Sacramento Recycling and Transfer Station, 8491 Fruitridge Road, Sacramento
8 a.m to 5 p.m. Saturday, Jan. 9
Note: This location also accepting trees Dec. 26-Jan. 9, Monday through Saturday, 8 a.m. to 5 p.m.
* SMUD Corporation Yard, 6100 Folsom Blvd., Sacramento
8 a.m. to 3:30 p.m. Saturday, Jan. 9
*North Area Recovery Station, 4450 Roseville Road, North Highlands
8 a.m. to 6 p.m. Saturday and Sunday, Jan. 9 and 10
* Kiefer Landfill, 12701 Kiefer Blvd., Sloughhouse
8:30 a.m. to 4:30 p.m. Saturday and Sunday, Jan. 9 and 10
* Elder Creek Recovery and Transfer, 8642 Elder Creek Road, Sacramento
8 a.m. to 3 p.m. Saturday, Jan. 9
For more details:
https://bit.ly/3mMUqPS
.
- Debbie Arrington