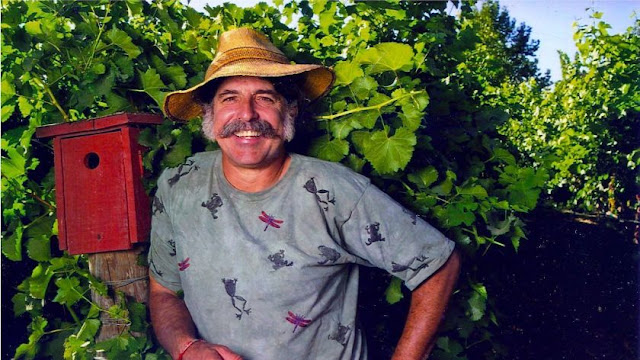 Amigo Bob Cantisano, who died Saturday, was an organic farming pioneer. (Photo courtesy Felix Gillet Institute)
Amigo Bob may be gone, but he'll never be forgotten.
Organic gardeners lost a hero and a true pioneer with the passing of Amigo Bob Cantisano, who died Saturday after an eight-year battle with cancer. He was 69.
A trailblazer in organic farming, Amigo Bob gets credit for many firsts, including his Organic Ag Advisors, the nation's first organic crop advisory service. He co-founded California Certified Organic Farmers and Peaceful Valley Farm & Garden Supply. He helped organize EcoFarm, the West Coast's longest-running organic farming conference. (Read his full obituary here:
https://bit.ly/3pv2VB1
.)
As far back as 1972, he set up food co-ops and organic farm cooperatives, so more people could eat and live healthy lives.
A legend in Nevada County, Amigo Bob was known nationwide for his dedication to organic farming and encyclopedic knowledge. Heaven and Earth Farm, Amigo Bob's sanctuary on San Juan Ridge, became a mecca for organic farming knowledge.
The Los Angeles Times heralded Amigo Bob as the "godfather of organic farming." "He was a pollinating honeybee of knowledge," said best-selling author Michael Pollan. (Read the full story here:
https://lat.ms/3rEkqAQ
)
In recent years, he had been on a quest to save heirloom varieties of apples, pears, peaches and other fruit trees and food plants through his Felix Gillet Institute; its nursery now grows 262 varieties in 21 species. Named for a pioneering nurseryman from California's Gold Rush, the institute's website offers about 150 of those rare varieties for sale. (See
https://felixgillet.org
.)
Amigo Bob's love of these living heirlooms was contagious. Like a modern-day Johnny Appleseed, he now has thousands of other organic farmers and backyard gardeners growing his "found" varieties.
After a lifetime of preaching organic farming to anyone who would listen, Amigo Bob saw continued growth in demand for organic products.
"When I started, .01 percent of farms grew food organically; now, it's 2 percent," he said in an interview with me in 2016. "Organics represent 5 percent of all food consumed in the U.S. That indicates a lot of room for growth.
"There's a shortage of a lot of organic crops (such as nuts, grains and animal feed), so there's a lot of demand," he added. "We'll see steady double-digit growth for a really long time."
Amigo Bob helped usher in a major change in how people thought about organic food.
"Today, organic food is almost institutionalized," he said. "People are more interested in their health and environmental concerns. The whole farm-to-fork (movement) is definitely part of it, too."
Besides his vast experience, Amigo Bob offered something more to any interviewer – his colorful personality.
"He was really a remarkable guy," author Hank Meals told The Union of Nevada County. "He was a giant of a man, in my book. He was a super hippie, and he made no bones about it. He was the real thing. He tried to live his life according to these righteous principles."
And according to his wishes, Amigo Bob will go out in pioneering style. His family plans to compost his remains at the first-ever human composting facility.
"As a lifelong pioneer and forward thinker, Amigo has been a trailblazer in so many arenas, so it's only fitting that he has chosen to follow this path in his death," said the GoFundMe page set up to raise money to cover expenses for this unique memorial. "In true Amigo fashion, his final wish is to be turned into the earth that he so loved, in the form of compost. This cutting-edge process is performed by Recompose in Seattle,
https://recompose.life/
, which has just begun accepting participants as of December 20, so Amigo will truly be a pioneer."
Said Jenifer Bliss, Amigo Bob's wife, "Being an organic farmer, Amigo knew that compost is the foundation of all the best organic farming. It is only fit that he should be composted and become the living biology that will inoculate and nourish the composts, farms and gardens of others."
To donate to Amigo Bob's memorial:
https://www.gofundme.com/f/amigo-cantisano-memorial-fund