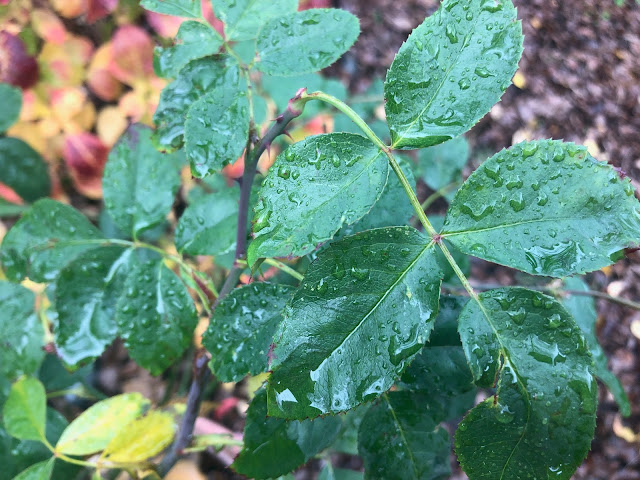 It's January and it's wet out, but use the dry days in between showers to tidy up
the winter garden. It's time to prune those roses, too. (Photo: Kathy Morrison)



Chilly and often damp; that's typical for January in Sacramento – and exactly how this new month and new year begins.

According to the National Weather Service, our 2021 starts out wet. Besides weekend showers, more (and heavier) rain is expected Monday, totaling up to a quarter inch. Showers also are in the forecast Wednesday and Friday.

Meanwhile, temperatures will stay on the cool side, cresting in the mid 50s each afternoon but staying above freezing overnight. And that's normal for Sacramento; January averages highs of 54 degrees and lows of 39. Rain is normal for this month, too, with more than 3.6 inches falling, on average.

Make the most of soft ground and breaks in between storms to take care of some January chores:

* Prune, prune, prune. Now is the time to cut back most deciduous trees and shrubs. The exceptions are spring-flowering shrubs such as lilacs and camellias.

* Now is the time to prune deciduous fruit trees, except apricots and cherries. Clean up leaves and debris around the trees to prevent the spread of disease.

* Prune roses, even if they're still trying to bloom. Strip off any remaining leaves, so the bush will be able to put out new growth in early spring.

* Clean up leaves and debris around your newly pruned roses and shrubs. Put down fresh mulch or bark to keep roots cozy.

* Divide daylilies, Shasta daisies and other perennials.

* Cut back and divide chrysanthemums.

* Transplant pansies, violas, calendulas, English daisies, snapdragons and fairy primroses.

* In the vegetable garden, plant fava beans, head lettuce, mustard, onion sets, radicchio and radishes.

* Plant bare-root asparagus and root divisions of rhubarb.

* In the bulb department, plant callas, anemones, ranunculus and gladiolus for bloom from late spring into summer.