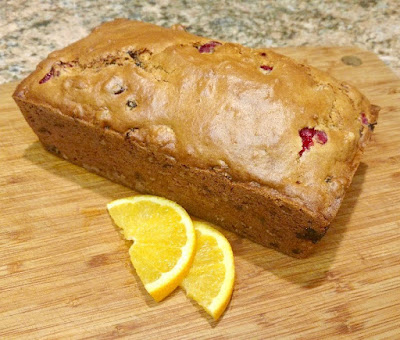 Oranges and cranberries complement each
other in this sunny tea bread. (Photos: Debbie
Arrington)
Oranges and cranberries naturally complement each other – and not just in Thanksgiving relish.
This simple tea bread makes the most of those bright and sunny flavors, and it's good for you, too. Both oranges and cranberries are packed with vitamin C.
This recipe was inspired by Nicole Routhier's excellent "Fruit Cookbook" (Workman Publishing, 1996). This version has been tweaked to play up the oranges and fresh citrus flavors. It takes about two to three fresh oranges to yield the necessary juice.
So close to the holidays, fresh cranberries are still available. (You may have some in the refrigerator right now.) By mixing the fruit with the flour, it stays suspended in the batter instead of sinking to the bottom of the baking pan. Avoid over-mixing; that brings out the gluten in the flour and toughens the tea bread.
Without too much sugar or butter, this tea bread comes out with a lovely golden crust – and lots of fruit flavor. It's just what you need on a chilly winter morning.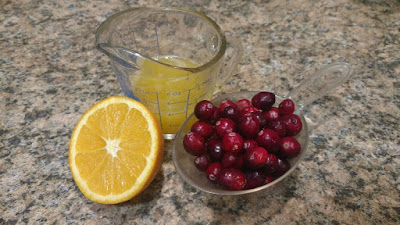 Here's a fresh wintry mix: Oranges, which have

just come into season, and cranberries, still

available in stores.

Orange cranberry bread
Makes 1 loaf
Ingredients:
2 cups all-purpose flour
1 tablespoon baking powder
1 teaspoon baking soda
½ teaspoon salt
1 cup whole cranberries, fresh or frozen (thawed)
½ cup raisins
½ cup dried cranberries
½ cup walnuts, coarsely chopped
2 large eggs
½ cup sugar
¾ cup fresh orange juice (2 to 3 oranges)
1 tablespoon orange zest, finely grated
¼ cup (½ stick) butter or margarine, melted and cooled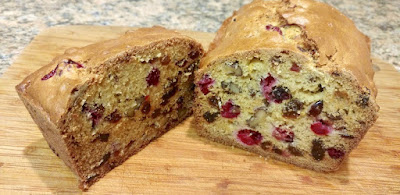 Both dried and fresh cranberries add color and sweet-tart

flavor to this bread.




Instructions:
Preheat oven to 350 degrees F.
Lightly grease loaf pan, preferably 8-1/2-by-4-1/2-by-2-1/2-inches; set aside.
In a large bowl, sift together flour, baking powder, baking soda and salt.
Add cranberries, raisins, dried cranberries and walnuts to flour mixture. Stir until well combined and fruit is covered with flour.
In another bowl, lightly beat eggs. Add sugar, then orange juice and zest. Stir in melted butter.
In the big bowl, make a well in the middle of the dry ingredients and add the juice mixture. With a wooden spoon, stir until dry ingredients are moistened. Don't over-mix. Batter will be very thick.
Spread batter into prepared pan. Bake at 350 degrees for 1 hour or until top is golden brown and a skewer or toothpick inserted near the center comes out clean.
Let cool for 15 minutes. Remove from pan.
Serve warm.