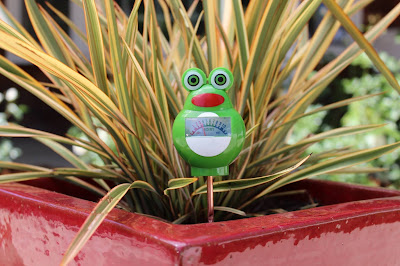 A moisture meter takes the guesswork out of
determining irrigation needs. (Photo courtesy
Regional Water Authority)
So far, 2021 has sure felt damp. After scant precipitation for so long, any real rain seems like a deluge.
But did your garden get enough water?
Probably not from this most recent storm – but more rain is on the way.
According to the National Weather Service, Sacramento received 0.21 inches on Monday, bringing our total for 2021 (a.k.a. since Friday) to 0.26. Normal for the first week of January – 0.46 – is almost double that amount.
We're still way behind our "water year" total, which measures back to Oct 1. Since then, we received 2.34 inches, 4.4 inches below normal for Sacramento. It's also far below our rain total for this same time period last year. During that very dry water year, we had already totaled 5.09 inches at this point.
What should be our three wettest months are still ahead of us, so there's still hope that this will be a "wet" year. In Sacramento, rain is forecast for Wednesday, Friday and again next Monday.
In winter, most of our garden needs less water than during the heat of summer. With the sprinklers turned off, a half-inch of rain will keep plants well hydrated for a week.
But scattered showers may not deliver as much water as your thirstiest plants need. And those showers may not reach all of your garden, particularly plants under eaves or shielded by big trees.
The solution? Measure your moisture. If you take a few minutes to look, your soil will tell you if it needs more water.
The easiest option to do this: Get a moisture meter; it's a simple tool with an instant read dial and the most effective way to judge how much water is actually getting to plant roots. Meters are available from some water service providers as well as local nurseries and big box stores.
Push the meter's pointy end 6 inches into the ground and see if that soil is wet, dry or moist (just right). Check the soil for potted plants, too.
No meter? Use a long-handled screwdriver. If you can't push it in at least 3 inches, irrigate that dry spot. But the screwdriver method can be misleading for containers or raised beds, where soil tends to be less compacted.
To really know, look at the soil. Take a trowel and dig down 6 inches and feel the dirt. Grab a handful of soil and squeeze. Can you easily make a ball out of that dirt? If so, the soil has enough moisture to keep plant roots happy. If it refuses to clump, it still needs more water.
For more water-saving and irrigation tips, see
www.bewatersmart.info
.