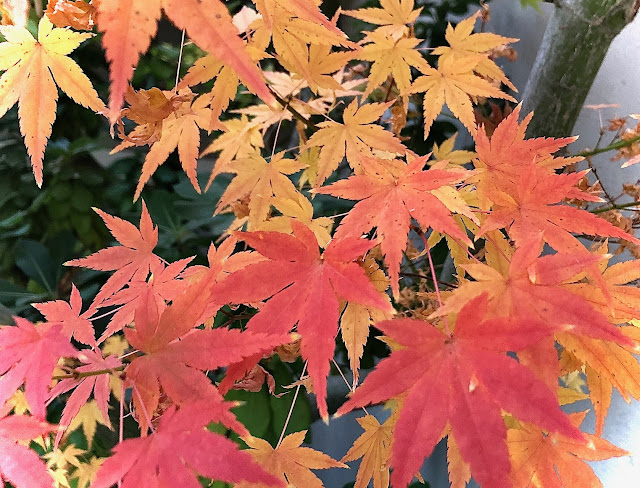 Many Japanese maples produce spectacular color shows in fall. (Photos: Kathy Morrison)
Japanese maples can be among the most beautiful – and most perplexing – trees to grow in the greater Sacramento area.
Find out how to bring out the best in your Japanese maple during a special Zoom workshop presented by the UC Cooperative Extension Master Gardeners of Placer County.
Set for 10:30 a.m. Jan. 23, this one-hour presentation will cover "the care, maintenance and variety selection of Japanese maples," say the master gardeners. No pre-registration is necessary for this free workshop.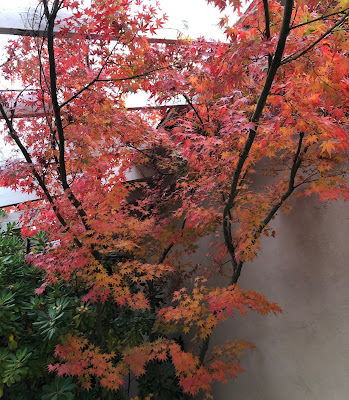 With an eastern exposure and enough irrigation, this
Japanese maple has grown as tall as the house.
With distinctive fall color and finely cut leaves, Japanese maples do their best in hardiness zones 5 through 8. That makes growing them in Sacramento's zone 9 a little problematic; some varieties can't take our afternoon heat.
But with a little shade (or eastern exposure), Japanese maples can thrive in Sacramento and the foothills. Due to our intense summer heat, they usually need some protection from leaf scorch and additional irrigation.
Japanese maples come in a wide range of sizes, from dwarf specimens under 5 feet tall to small trees topping out at 25 feet. According to Monrovia Nursery (which grows several varieties), foliage may be red, green, orange, purple, white or pink depending on the season. Some varieties stay red all year while others produce spectacular fall foliage.
Learn more at Placer County master gardeners' Zoom workshop.
Details and Zoom link:
http://pcmg.ucanr.org/?calitem=495617&g=123640