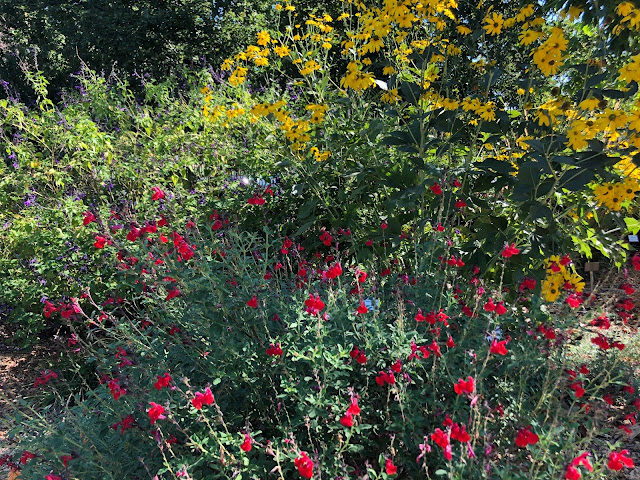 A water-efficient garden can be as colorful as you want, with the right plants.
This beautiful collection is at the Fair Oaks Horticulture Center, in the appropriately
named Water-Efficient Landscape. Photographed in mid-September 2019.
(Photo: Kathy Morrison)
Thinking about tearing up that thirsty lawn and starting over? Get some expert advice on water-efficient makeovers before you dig.
"Do's and Don'ts for Front Yard Renovations," a new webinar presented by the Regional Water Authority (RWA), tackles the basics of landscape transformations with an eye toward environmental stewardship as well as beauty.
Set for noon Thursday, Jan. 28, the one-hour online workshop is free to Sacramento-area residents who are customers of local water suppliers. But interested attendees need to register in advance.
Leading the discussion will be local water-wise landscape experts Soleil Tranquilli, Cheryl Buckwalter and Marcia Scott. Sacramento Suburban Water District hosts the presentation.
According to the RWA, this webinar is about a lot more than saving water: "We renovate our front yards for various reasons: Maybe the existing landscape is overgrown, lacks color, and requires too much work. Maybe it's time to spice up your curb appeal. And, maybe you want to lead by example, showing friends and neighbors that your landscape is both beautiful, water-efficient, and a magnet for birds, bees, and other pollinators.
"Taking time to plan your landscape renovation can help you avoid design, irrigation, and plant pitfalls," the RWA added. "This workshop will guide you through the design process, including essential elements to consider. It will cover irrigation basics for healthy plants, how to avoid costly mistakes, and provide sage advice for what to do and not do during your renovation."
Register at:
bit.ly/FrontYardRenov
Upcoming RWA webinars include: "Young Tree Pruning" (noon Feb. 4); "Landscape Design with Cost in Mind" (noon Feb. 25); "How Much Water Does Your Landscape Really Need?" (noon March 25); "Drought Tolerant/Mediterranean Climate Gardens" (noon March 31); and "Creating a Pollinator Garden" (noon April 14).
Find out more and sign up at:
https://bewatersmart.info/webinars/
.