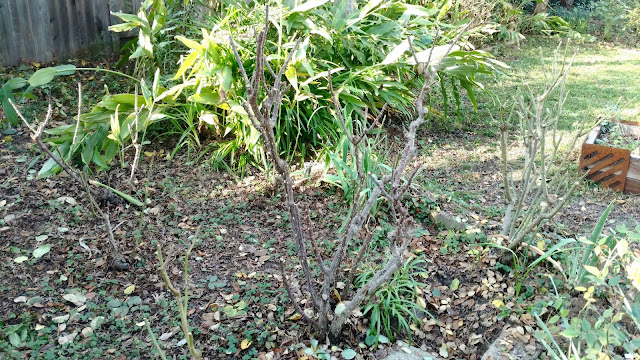 These hybrid teas, floribundas and grandifloras benefit from pruning taller, not to the ground. (Photos: Debbie Arrington)
How short – or tall – should you prune roses? It depends – on the kind of rose as well as its age and health.
But in most cases, taller may be better than shorter.
Traditionally, hybrid teas, floribundas and grandifloras – the most common classes of garden roses – were pruned very short, taking canes to under 12 inches or less. Many people, including professional gardeners and landscapers, still follow that method, whacking bushes down almost to the ground.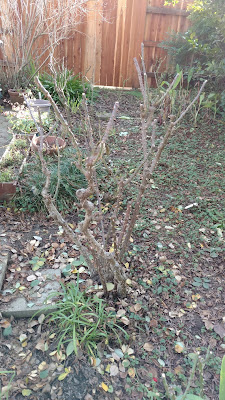 This is About Face, a very tall
grandiflora rose that appreciates
less pruning.
However, pruning roses so short forces the bush to put a lot more energy into regrowing its height before it starts setting blooms. That can delay those first flowers several weeks.
In addition, it risks pruning below the graft, the knotty connection where the bush you want – the hybrid variety – is attached to rootstock. If the bush is pruned below the graft, the hybrid is gone and only the rootstock will grow.
To get blooms faster and also support healthier growth, prune the rose bush taller. For most hybrid tea, floribunda and grandiflora bushes, that's about waist high – 36 inches. Shorter, more compact bushes – such as smaller landscape and shrub roses as well as some floribunda varieties – can be pruned down to 24 inches, about knee high.
The idea behind this pruning approach: Bushes want to grow to a certain height. A hybrid tea rose that typically grows to 4 or 5 feet wants to be 48 to 60 inches tall before it bursts into full bloom. If pruned to 36 inches instead of 12, that bush will start flowering in force much sooner and with more energy than if it had to regrow all that cane.
Another positive: Pruning taller takes less time – and less work! So you can prune your rose garden faster with less effort.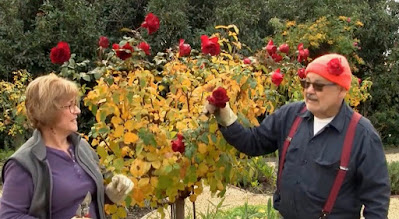 Charlotte Owendyk and Baldo Villegas demonstrate how to
prune a tree rose in a segment of the Sierra Foothills Rose
Society's pruning video. (Screenshot)
Get more expert advice on growing, pruning and caring for all sorts of roses via excellent new videos produced by the Sierra Foothill Rose Society. Instead of hosting its usual in-person winter rose-care workshop, the club hosted its workshop via Zoom and recorded the presentation to share on YouTube.
Local rose authorities Baldo Villegas and Garry Chin host the virtual rose-care workshop, assisted by other members of the rose society. Breakout sections on pruning climbers and tree roses as well as pruning basics and tool selection are available, too. And the best part? It's free! Watch online, then try out your new skills.
See for yourself: