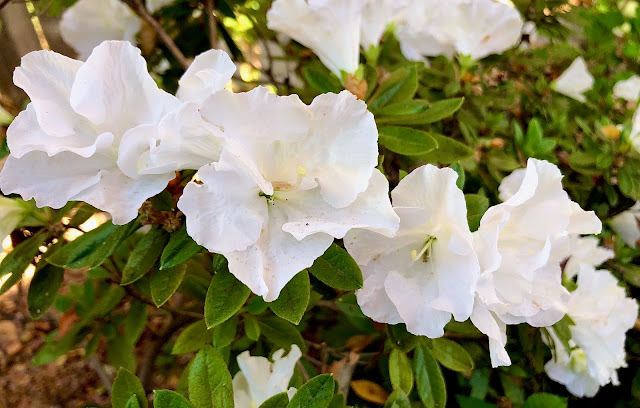 A lightly shaded spot with an eastern exposure is a good location for a blooming
azaleas. (Photos: Kathy Morrison)
Watch out for falling branches – and stray sparks!
According to the National Weather Service, windy and dry conditions may bring danger to Northern California. A high wind watch is in effect Sunday evening through 11 p.m. Tuesday, with north to east winds of 25 to 35 mph blowing through the Valley. Gusts of 40 to 50 mph could bring down tree limbs and power lines. Be ready for power outages, too.
Coupled with unusually dry and warm weather, those high winds increase fire danger, too. Be careful using power machinery outdoors. Do not park vehicles or mowers on dry grass.
No rain is in sight. Although dormant plants don't need much, make sure your garden gets irrigated – especially your vegetable garden and new transplants.
On the plus side, temperatures will continue above average; instead of the typical 53-degree highs for mid-January, Sacramento will be 10 to 15 degrees warmer each day. Overnight lows will stay above freezing, too.
Make the most of these warm, clear winter days:
* Apply horticultural oil to deciduous fruit trees to control scale, mites and aphids. Oils need 24 hours of dry weather after application to be effective.
* Spray a copper-based oil on peach and nectarine trees to fight leaf curl.
* Divide daylilies, Shasta daisies and other perennials.
* Cut back and divide chrysanthemums.
* Finish pruning roses, deciduous trees and shrubs before buds break.
* Plant bare-root roses, trees and shrubs.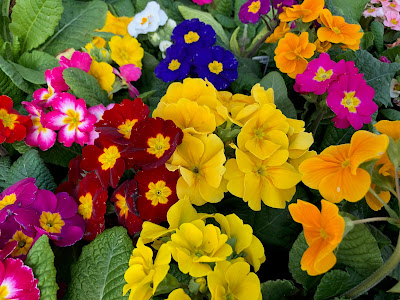 Primroses and polyanthas bring bright spots of color to
the winter garden.
* Transplant pansies, violas, calendulas, English daisies, snapdragons and fairy primroses.
* In the vegetable garden, plant fava beans, head lettuce, mustard, onion sets, radicchio and radishes.
* Plant bare-root asparagus and root divisions of rhubarb.
* In the bulb department, plant callas, anemones, ranunculus and gladiolus for bloom from late spring into summer.
* Plant blooming azaleas, camellias and rhododendrons. If you're shopping for these beautiful landscape plants, you can now find them in full flower at local nurseries.