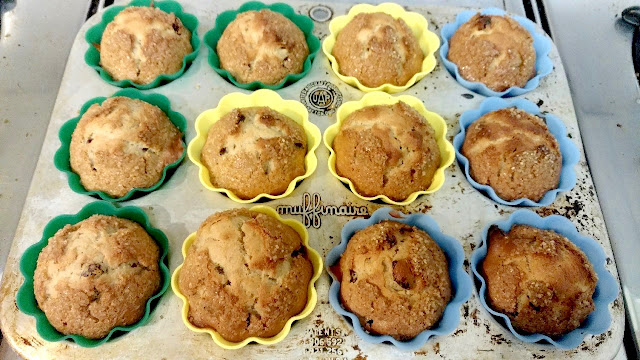 Applesauce muffins, fresh from the oven, make a healthy snack or breakfast bread. (Photos: Debbie Arrington)
Muffins were made for breakfast on the go. They're just as perfect for afternoon snacking. Why? Those carbohydrates offer a quick energy boost.

This recipe substitutes applesauce for milk and most of the oil, cutting down on fat while adding more good-for-you nutrients.
These easy muffins have a baking powder biscuit-like texture and smell delicious while baking. When cut, they don't fall apart into a bunch of crumbs, making these muffins less messy, too.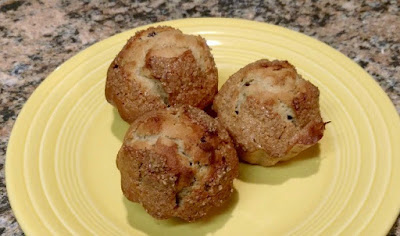 They look yummy and smell delicious.

Applesauce muffins
Makes 12 large muffins
Ingredients:
2 cups all-purpose flour
3 teaspoons baking powder
1/2 teaspoon salt
1/2 teaspoon cinnamon
1/2 teaspoon ground ginger
1 cup raisins
2 eggs
3/4 cup brown sugar
1 cup applesauce
1/3 cup vegetable oil
1 teaspoon vanilla
Demerara sugar (optional)

Instructions:

Preheat oven to 400 degrees F.

Prepare a 12-cup muffin tin. Lightly grease cups or use silicon cup liners.

In a large bowl, sift together flour, baking powder, salt, cinnamon and ginger. Stir in raisins.
In a separate bowl, beat eggs. Blend in brown sugar. Add applesauce, then cooking oil and vanilla.
Make a well in the dry ingredients. Add wet ingredients. With a wooden spoon, stir until just blended. Don't overwork batter.

Spoon batter into prepared cups of muffin tin. For large muffins, fill cups about 3/4 full. If desired, sprinkle Demerara sugar or additional brown sugar on top of each muffin.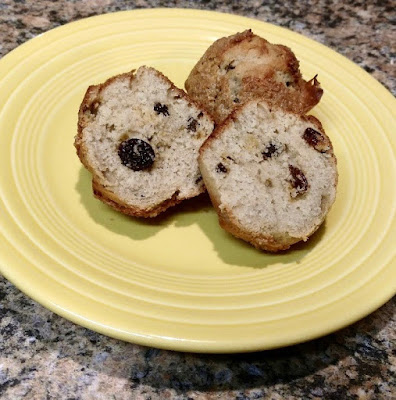 The muffins feature raisins, but dried cranberries or
currants work just as well.
Bake at 400 degrees for 25 to 30 minutes, or until golden brown; a toothpick inserted in center comes out clean.

Let cool a few minutes before removing from tin. Best served warm.