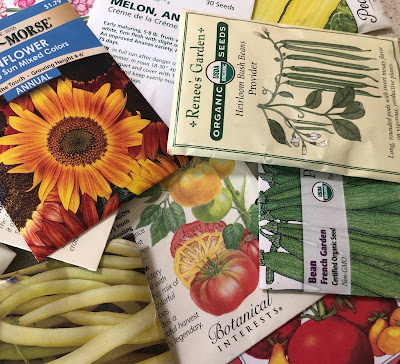 Time to break out the summer seeds and plan the
2021 summer garden. The UCCE master gardeners
have a class for that. (Photo: Kathy Morrison)
It's only January, but it's already time to start planning for summer planting. It's not too late to plant for spring, too.
Not sure where to start? Take a free online class from the UC Cooperative Extension Master Gardeners of El Dorado County. Thanks to the internet, you can take the course wherever you are (as long as you have wifi).
Set for 9 a.m. Jan. 30, "Spring and Summer Vegetables" will cover the basics of warm-season gardening with special attention to the needs of Foothill gardeners.
"Master Gardener Zack Dowell will discuss garden plant selection, planting times, site selection, soil preparation, proper seed planting techniques, and pest management," according to the course description.
Registration is now open for the 90-minute class. Sign up now to make sure you get your slot.
While in-person workshops are still restricted due to COVID concerns, El Dorado County master gardeners will host a full schedule of online gardening classes. Other upcoming courses include: rose pruning (Feb. 10), fruit tree grafting (Feb. 13), fire-wise landscaping (Feb. 27) and vegetable gardening for small backyards (March 10).
These free courses are open to everyone, regardless of which county they reside.
Details and registration:
http://mgeldorado.ucanr.edu/
Links are sent out with the registration confirmation email.
- Debbie Arrington