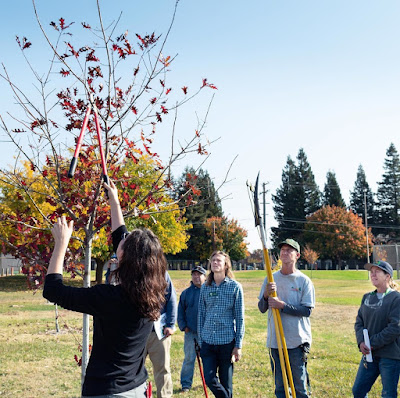 Proper pruning when a tree is young can help
it grow strong and true. (Photo courtesy
Sacramento Tree Foundation)
Why do some trees survive high winds while others snap like twigs? It often comes down to pruning – not just of the mature tree, but as that tree was developing.
Train your trees to grow strong and true with the help of a new online class presented by the Sacramento Tree Foundation and the Regional Water Authority.
Set for noon Thursday, Feb. 4, "Young Tree Pruning" will present the do's and don'ts of how to train a tree to be its best. This early pruning is especially important with shade trees, which can provide heat relief and potentially save homeowners energy and money.
Arborist Pamela Sanchez from the Sacramento Tree Association will demonstrate techniques as well as discuss tools and tree's needs. She'll concentrate on shade trees, particularly the fast-growing varieties common to Sacramento. (This class doesn't include fruit tree care.)
"Quick, simple steps you can take now to help your young shade trees grow healthy and beautiful will save you time and money in the future," according to the RWA. "We'll teach you how and where to make good cuts and which tools to use."
This one-hour class is free and open to customers of the local water suppliers that are part of the Regional Water Authority. Advance registration is required.
Register at:
bit.ly/Tree-Pruning