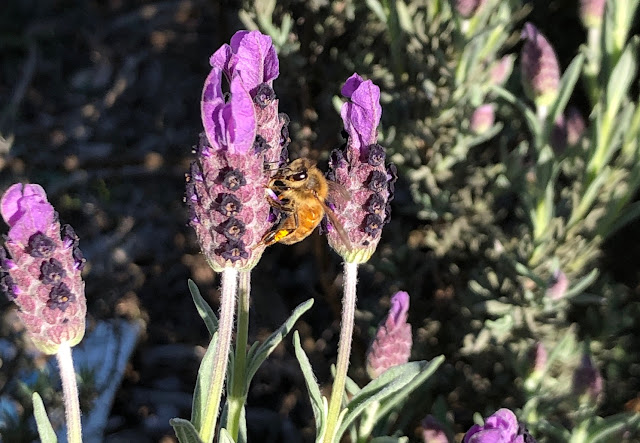 Bees love lavender. Learn more about bees and help the Honey Bee Haven at UC Davis this month.
(Photo: Kathy Morrison)
Bees can use a helping hand. So could the Häagen-Dazs Honey Bee Haven.
Located on the UC Davis campus, this half-acre pollinator garden is devoted to bee pollinator conservation and education. Many different kinds of bees (not just honey bees) frequent this habitat, which is open free to the public daily.
Although the Honey Bee Haven kept buzzing during the pandemic, its major source of funding – public events – evaporated during 2020. So, the Honey Bee Haven launched a month-long Crowdfunding drive on Monday. (Despite the founding name, the site did not receive funding from Häagen-Dazs after its first few years.)
"We normally earn most of our operating funds through classes and tours, but this revenue was lost in 2020 because of COVID closures," explained Christine Casey, who oversees the garden. "Our goal for the month is to raise $5,000 for purchase of plants, tools, and irrigation supplies. Any amount is welcome and all donors will be recognized."
To donate, go to:
https://crowdfund.ucdavis.edu/project/24323
During this month-long fund drive, the Honey Bee Haven also will host two Zoom chats as well as debut two new videos.
At 12:15 p.m. Feb. 9 and Feb. 23, join Casey for half-hour question and answer sessions. She'll start each Tuesday lunchtime session with a quick tour of the garden, highlighting what's blooming and who's buzzing in the Honey Bee Haven. Then she'll answer any questions about bees and bee-friendly plants. All viewers are welcome to these free sessions. No advance registration is necessary.
To join the Feb. 9 session on Zoom:
Meeting ID: 966 3997 6701
Passcode: 202584.
To join the Feb. 23 session on Zoom:
Meeting ID: 995 0184 7681
Passcode: 672621.
In addition, the Honey Bee Haven will release two new videos – "Making a Solitary Bee House" and "Bee Diversity"-- on its YouTube channel at 10 a.m. Feb. 15. Already on the channel are short videos on creating a bee garden, identification of common bees and bees at work in the edible garden.
View them at:
https://bit.ly/3tl8XqA
Catch the buzz yourself. Visit the Honey Bee Haven and see the bees in action as well as discover more than 200 varieties of bee-friendly plants, which will soon start spring bloom.
With free parking as well as free admission, the garden is open dawn to dusk every day but Tuesdays, when it opens at noon. The Honey Bee Haven is located at 1 Bee Biology Road. Go west of main campus on Hutchison Drive, turn left on Hopkins Drive and left on Bee Biology Road.
For more information:
http://beegarden.ucdavis.edu