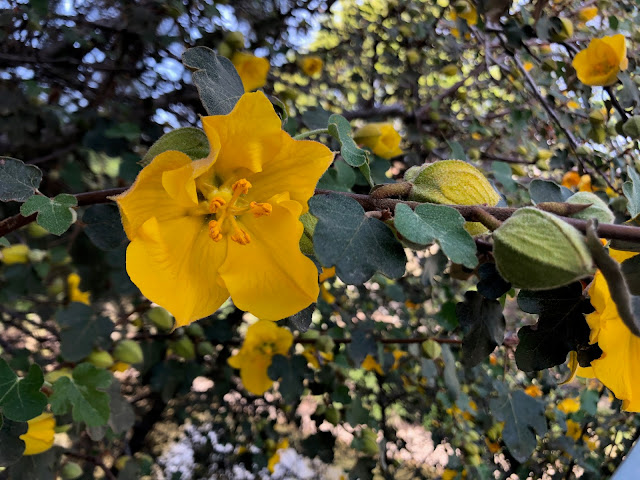 PlantRight notes California flannel bush, above, is a preferred alternative shrub to invasive Scotch broom and Spanish broom, which also sport yellow flowers. (Photo: Kathy Morrison)
We all are familiar with garden-variety invasive plants: Bermuda grass, mint and privet come to mind as plants that plague gardeners with their persistence once they take hold.
But then there are the high-risk invasive plants, really nasty things that can take over a whole hillside or waterway if they get loose from someone's landscape or aquarium. These plants are non-native, can spread on their own, and can cause or are likely to cause environmental or economic harm.
It's these seven plants -- which are still being sold in California by nurseries -- that are on the target list of PlantRight , an organization of nursery professionals. The group aims to keep high-risk invasives from being sold for home and commercial landscaping.
Alex Stubblefield, program manager of PlantRight, recently talked about the group's efforts in a webinar for the UCCE master gardeners. (It was recorded and can be viewed on YouTube .)  She notes that invasives cost California a lot of money -- an estimated $80 million annually in economic impact.
So far, the group has had great success in advertising and advocating against invasives. She noted that PlantRight's original "Do Not Plant" list numbered more than 20 plants. They've managed to get nasties such as Scotch broom and blue gum eucalyptus virtually eliminated from nursery sales.
Of course, these plants are still out there: Some have escaped into the wild -- all the Scotch broom in American River watersheds, for example -- and lots are in folks' yards, where they spread via seeds or intentional divisions and plant sharing.
This is where we come in: Gardeners need to know invasives, stop buying them and stop sharing them, and help rid their neighborhoods of them, where they can.
The priority "Do Not Plant" list is:
-- Pampas grass ( Cortaderia selloana ) -- Just one of its pretty plumes can produce 100,000 seeds in a year, and can blow on the wind up to 20 miles away, PlantRight notes. All its cultivars are considered invasive.
-- Green fountain grass ( Pennisetum setaceum ). This one is not considered invasive in the Central Valley, but it is in the rest of the state.
-- Mexican feathergrass ( Stipa/Nassella tenuissima ). Like the other grasses, it produces many, many seeds.
-- Periwinkle ( Vinca major ) -- The invasive one is the trailing perennial variety, not the cultivars that are common annuals.
--  Highway iceplant ( Carpobrotus edulis ). If you're a Californian, you've seen this somewhere along the coast.
-- Yellow flag iris ( Iris pseudacorus ). This is a wetland plant.
-- Water hyacinth ( Eichhornia crassipes ). It's reputedly the fastest-growing plant in the world and is all over the Delta.
How does a plant land on this list? PlantRight uses two factors: A Plant Risk Evaluator, plus its annual Spring Nursery Survey. The survey was not able to be conducted last year, but Stubblefield says the intention is to go ahead with it in 2021, with safety protocols. Volunteers are trained beforehand. Signups are accepted after creating an account .
Other plants are on the "Watch List," meaning they have naturalized only in small parts of the state, where they should be avoided. These include common foxglove ( Digitalis purpurea ), gazania ( Gazania linearis ) and Mexican daisy (Erigeron karvinskianus) . See the list.
PlantRight has many nurseries in the state that are listed as partners, which means they've pledged not to sell any plant from the invasives list. I was delighted to see that Green Acres, The Plant Foundry, Talini's, Emigh Hardware and Big Oak Nursery are listed among them, as are chains Lowe's and Home Depot.
There's also a great list of non-invasive alternatives , including native plants, such as the flannel bush in the photo at top, on the PlantRight website.