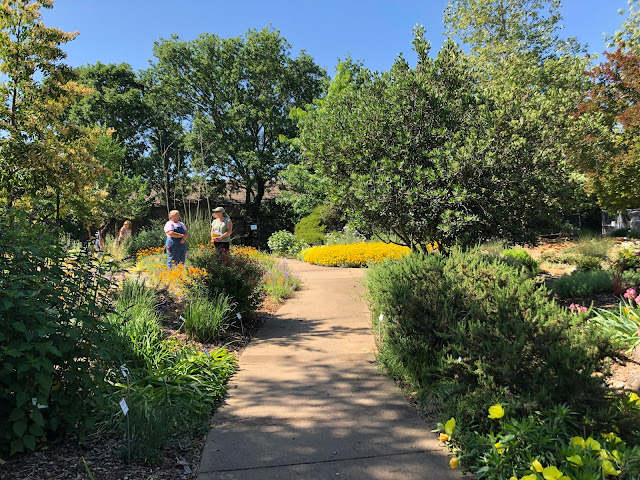 The Water Efficient Landscape garden at the Fair Oaks Horticulture Center offers good examples for anyone looking to reduce water use via plant selection. (Photo: Kathy Morrison)
Are you ready to step up your water-wise expertise? Would you like to become a certified water-efficient landscape pro? Then, this program is for you.
And the best part? You can do it virtually anywhere (as long as you have internet access).
It's the Qualified Water Efficient Landscaper (QWEL) professional certification program, designed to provide landscape professionals with the know-how to create and maintain beautiful landscapes while saving water.
These skills (and the knowledge behind them) are helpful at any time, but will be particularly useful in dry times ahead. Despite recent storms, Northern California's total rainfall for this water year remains far below average.
Hosted by the Regional Water Authority and scheduled for six afternoons, the QWEL course will be held from 12:30 to 4 p.m. Mondays and Wednesdays, March 8 through 24. Course fee is $50.
"The QWEL professional certification (program) provides landscape professionals with 21 hours of education on local water supply, sustainable landscaping, soils, landscape water budgets, irrigation system components and maintenance, irrigation system audits, and scheduling and controller programming," said Amy Talbot, RWA water efficiency program manager.
"In order to obtain the QWEL certification, an individual must demonstrate their ability to perform an irrigation system audit as well as pass the QWEL exam."
The list of topics covered in the QWEL curriculum include:
* Where Our Water Comes From
* Sustainable Landscaping
* Landscape Water
* Irrigation Systems
* Irrigation Maintenance and Trouble Shooting
* Irrigation System Auditing
* Irrigation Scheduling
* Irrigation Controllers
This training also has been approved for 19.5 Association of Professional Landscape Designers (APLD) Continuing Education units. Graduates can choose to be added to the QWEL public referral list.
Space is limited and slots are filling quickly, so register early. To register:
https://www.qwel.net/pub/class/238
For more information on QWEL, go to:
www.qwel.net