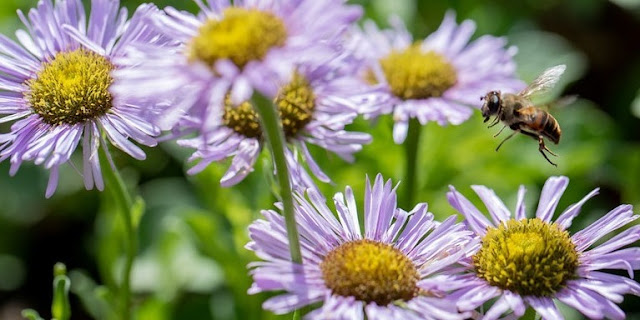 Seaside daisies attract a busy bee. Many native plants will be available during the UC Davis Arboretum plant sale. (Photo courtesy UC Davis Arboretum)
It's not too late to plant for summer – or next fall. Find hundreds of possibilities at the UC Davis Arboretum's Member Appreciation Plant Sale.
Starting at 1 p.m. Friday, Feb. 26, this first online sale of the season continues through 1 p.m. Monday, March 1. Then, buyers schedule a time for contact-free curbside pick-up at the Arboretum Teaching Nursery between March 4 and 9 (excluding Sunday, March 7).
"Shop from thousands of attractive, low-water plants perfect for our region," says the Arboretum staff. "Shopping is limited to members of Friends of the UC Davis Arboretum and Public Garden. Members who shop this event will receive their member appreciation gift of a free plant! Not a member? No worries. Sign up and go shopping! Members save 10% on their plant sale purchases and receive other benefits as well." Memberships start at $48 for individuals; $18 for students. Check out the benefits here:
https://arboretum.ucdavis.edu/membership/individual
The plant inventory is extensive and includes many of the popular Arboretum All-Stars as well as water-wise flowering perennials and shrubs. Plant now so these drought-resistant California natives and Mediterranean stalwarts can start getting established before summer heat.
Besides helping save water, low-water native plants also support natives bees and can attract beneficial insects to your garden, bringing more wildlife (and life) into your landscape.
With the largest selection of the season, this sale also features plenty of eye-catching favorites, from Abutilon (flowering maple) to Zephyranthes (rain lily).
Full details, plant inventory and links:
https://arboretum.ucdavis.edu/online-plant-sales