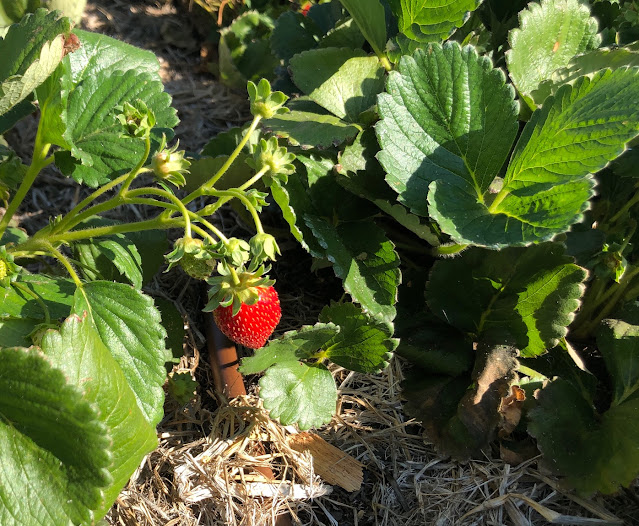 Nothing like growing, picking and eating your own strawberries. Now is the perfect time to plant them. (Photo: Kathy Morrison)
Get ready to celebrate a California favorite: Saturday is National Strawberry Day.
Although the exact origins of this commemoration on this particular date are unclear, Feb. 27 has been tied to strawberries for several years. Why February? In part, because of the strawberry's red color and heart shape. It's like a fruity Valentine.
More likely, that late February date coincides with planting time for many California growers – including Sacramento.
According to the California Strawberry Commission, our state grows 88% of the nation's strawberries on approximately 34,000 acres. Overall, the state has about 300 strawberry farms, divided into five zones: Watsonville/Salinas, Santa Maria, Oxnard, Orange County/San Diego, and the Central Valley.
Statewide, fresh strawberry production averages 50,000 pounds per acre each season, according to the commission. In 2019, California growers harvested more than 1.8 billion pounds of strawberries.
Commercially, California strawberries are available year round. Supply peaks April through August when growers throughout much of the state are harvesting.
Strawberries continue to be immensely popular with California home gardeners, too. More than 600 varieties of strawberries are available, but some do much better in California than others. According to StrawberryPlants.org (which specializes in this crop), the state commission recommends
Albion
,
Aromas
,
Camarosa
,
Camino Real
,
Chandler
,
Diamante
,
Gaviota
, Oso Grande, Pacific,
Seascape
, Selva and
Ventana
.
For Sacramento's summer heat, a best bet is Seascape. Disease resistant, this ever-bearing strawberry yields very nice fruit year round, especially in late spring and fall. It's tolerant of early spring heat as well as Sacramento's hot summers, and does not need as many chill hours as other varieties.
For more on strawberries:
https://strawberryplants.org/
and
https://www.calstrawberry.com
.