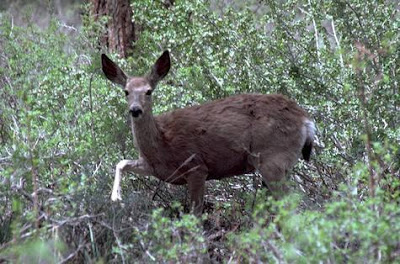 Keeping deer out of gardens is a battle for foothill
gardeners as well as those who live near the rivers
or in semi-rural area. (Photo by W. Paul Gorenzel,
courtesy UCIPM)
What will deer eat? Whatever they like. The real question for foothill gardeners: What won't deer eat?
The same goes for rabbits and other voracious critters, who can destroy a garden seemingly overnight. Squirrels can strip fruit trees bare. Gophers attack plants from below, chomping through roots and tunneling under lawns.
But there are ways to outfox hungry wildlife. Learn how with the help of the UC Cooperative Extension Master Gardeners of Placer County.
"From Bambi to Thumper: An Integrated Strategy for the Management of Vertebrate Pests" will be presented at 10:30 a.m. March 13. This one-hour Zoom workshop is available free to gardeners anywhere there's internet access. No advanced registration is required.
Whether you're dealing with deer who don't know their limits or opportunistic rodents, the master gardeners have a plan. That starts with identifying what is actually doing the damage.
"Learn how to use Integrated Pest Management to identify and control garden damage from squirrels, gophers, deer and other pests," say the organizers.
Those effective strategies include plant selection. For example, deer tend to avoid such aromatic plants as lavender, rosemary and garlic.
Don't underestimate the intelligence or hunger of these pesky critters; garden defense needs several different methods to truly be effective.
In case you can't make this workshop or missed earlier workshops, Placer County master gardeners are now offering recordings of their virtual workshops online via their website.
Full details (including the Zoom link to the Bambi workshop):
http://pcmg.ucanr.org/